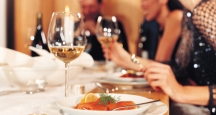 Tao | Fine Dining in NYC
Tao is an NY Restaurant that offers Fine Dining in NYC.
Address:
42 E 58th Street New York, NY 10022
Phone:
42 E 58th Street New York, NY 10022
Tao
Cuisine: Asian
Price: $$$$
Reservations: Taken
Neighborhood: Midtown
Hours:
Monday through Friday – 11:30 a.m. to 10:30 p.m.
Saturday and Sunday – 4 p.m. to 10:30 p.m.
Enjoy Fine Dining in NYC at Tao – one of the top NY Restaurants.
About Tao:
Once a balconied movie theatre, Tao is the kind of NY Restaurant that has a lot to offer diners even before they take a single bite. The décor may make you feel a bit like you're dining in a temple, but once you taste the food, it seems appropriate.
The Sunday Dim Sum Brunch isn't just a menu highlight; it's a full-on NYC highlight. Enjoy a fabulous cocktail as you sample the Lobster and Shrimp Rolls with Sweet Miso and Ho Fun Noodle Stuffed with Shrimp and Lobster – both of which are diner favorites. This NY Restaurant has 1 of the best brunches in the City.
As for lunch and dinner, Tao puts its own twist on Asian-inspired fine Dining in NYC. The classics you know and love are presented in new ways that make them special and memorable. Outstanding examples include the Wasabi Crusted Filet Mignon with Tempura of Onion Rings, the Imperial Wagyu Beef Cooked in a Ginger Scallion Broth with Wasabi Dipping Sauce, and the Typhoon Lobster with Fingerling Potatoes and Spicy Stir Fry.
Some argue the menu is a little on the large side for such an elegant establishment, but every single one of the delicious offerings deserves its place on Tao's menu. Full of Eastern promise and with an unforgettable Asian ambiance, you owe it to yourself to check out Tao. Keep in mind that Tao is one of the most popular NY Restaurants, so if you're determined to dine here then it is a good idea to reserve your table in advance of your visit. 
NYC
Visitor's Guide
Learn about all there is to do, see and experience in the world's greatest city!