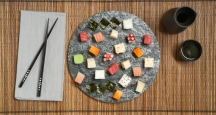 Sushi Zen | NYC Dining
When sushi is what you crave, Sushi Zen offers a fine NYC Dining experience.
Address:
108 W 44th Street New York, NY 10036
Sushi Zen
Cuisine: Japanese/Sushi
Price: $$$
Reservations: Taken
Neighborhood: Times Square
Hours:
Monday through Friday – noon to 2:45 p.m. and 5:30 p.m. to 10 p.m.
Saturday – 5 p.m. to 10 p.m.
Sushi Zen is a favorite Restaurant in NY that is popular with both locals and visitors who want to sample some of the City's best sushi.
About Sushi Zen:
With so many Restaurants in NY already serving up their own take on sushi, the whole concept has become a little cliché. But while sushi as an everyday fast-food substitute has become anything but inspiring, some of the city's sushi pioneers are sticking to their roots and still producing Japanese-inspired delicacies that are the fine-dining version of this popular cuisine.  
One example of such a Restaurant is Sushi Zen. This spot offers a not-to-be-missed NYC Dining experience for those who take their sushi seriously. Sushi Zen is a place to relax and take your time as you enjoy some of the most decadent sushi rolls and seasonal specials in the City.
When you want simple, honest sushi then this is the place. Are the sushi rolls stuffed with a million different ingredients? No. Do the dishes come presents in weird and wacky ways just for the sake of it? Not even close.
Instead, Sushi Zen prefers to focus on the genuine simplicity of the world's finest sushi where the flavor does all of the talking. There are plenty of Restaurants in NY that cater to the pretentious sushi crowd, but this is not 1 of them. 
Try the Grilled Black Codfish Marinated in Saikyo Miso Sauce to kick things off, perhaps followed by the Daily Sushi Selection which at $38 is a bargain. Sushi Zen is also well known for its outstanding Blue Fin Tuna Specials, which include the quite extraordinary Bluefin mini Tuna Steak with Daikon Radish and Ponzu Sauce.
Sushi Zen is not the least expensive sushi Restaurant in NY, but it is 1 that offers sushi as it was meant to be, and a visit here will be a highlight of any stay in New York City. 
NYC
Visitor's Guide
Learn about all there is to do, see and experience in the world's greatest city!