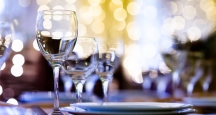 Salt & Fat | NYC Restaurants
Salt & Fat is an NYC Restaurant that offers unique cuisine and a memorable dining experience.
Address:
41-16 Queens Boulevard Queens, NY 11104
Salt & Fat
Cuisine: American
Price: $$
Reservations: Not taken
Neighborhood: Sunnyside
Hours:
Tuesday through Saturday – 6 p.m. to 11 p.m.
Sunday – 5 p.m. to 10 p.m.
Salt & Fat offers a casual dining experience that boasts a fabulous fusion menu.
About Salt & Fat:
Assuming you've missed the buzz over the years, Salt & Fat is a NYC Restaurant that is the brainchild of chef-owner Daniel Yi. Yi was born in Seoul and raised in Queens, so he's pretty much lived a life of US-Korean fusion. When he decided to turn his hand to quality dining, it makes sense that this would be way he'd go. The result is 1 of the most-talked-about Restaurants in New York.
Salt & Fat offers many classics, but with a decidedly East-meets-West twist. The result is a menu of dishes that never experienced before. Salt & Fat removes the generic from the menu and replaces it with a large dose of the unexpected.
In terms of highlights, the Foie Gras is some of the best you'll find among at an NYC Restaurant. The Korean BBQ Wraps represent a great taste of what this place is all about, while the Crispy Berkshire Pork Trotter also gets top marks. The signature Duck Breast with Burnet Eggplant Yogurt, Apricot, Shiso Chimichurri and Duck Fat Crouton is a menu highlight that will leave you dreaming of the day you can visit this Dining spot again.
While it's easy to spend a fortune at a wonderful NYC Restaurant, Salt & Fat proves you don't have to spend a lot to enjoy great food. Spend an affordable evening out at this Restaurant in New York that is popular with locals and visitors alike. 
NYC
Visitor's Guide
Learn about all there is to do, see and experience in the world's greatest city!