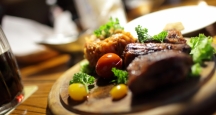 Rose Water | Restaurants in NY
Delicious food and an inviting atmosphere is what you'll find at Restaurants in NY like Rose Water.
Address:
787 Union Street Brooklyn, NY 11215
Rose Water
Cuisine: Seasonal American
Price: $$$
Reservations: Taken
Neighborhood: Park Slope
Hours:                       
Sunday – 9:30 a.m. to 3 p.m. and 5:30 p.m. to 10 p.m.
Monday through Thursday – 5:30 p.m. to 10 p.m.
Friday – 5:30 p.m. to 11 p.m.
Saturday – 9:30 a.m. to 3 p.m. and 5:30 p.m. to 11 p.m.
Enjoy seasonal offerings, fabulous wine, and impressive desserts at this popular Restaurant in NY.
About Rose Water:
There are many good reasons to visit Rose Water, but when it comes to that classic New York Sunday Brunch, the offerings at this spot are pure heaven. One of the most well-known and celebrated seasonal Restaurants in NY, the talented team at Rose Water serve up simple Restaurant staples that are made using the freshest ingredients they can find at the time. No matter the season, this NYC Dining spot will offer you a taste of that season's best.
There's always a buzz about the place no matter when you visit, and the place has a reputation in the organic NYC Dining scene. Get through the doors, and the first thing that hits you is the unmistakable smell of exquisite home-cooking. The team knows just how to look after its guests, and the outside seating area is paradise for those lazy summer afternoons. You might have to wait for a table, but you won't mind – just enjoy sipping a glass of the homemade Rose Water Lemonade.
Menu highlights follow the seasons and are constantly changing. Over the summer months, options include a cooling Cucumber Gazpacho followed by the very popular Crispy Pork Belly. The wine list at Rose Water provides plenty of options as well. If you can manage, try to save room for dessert. When the attentive wait staff sets down your Chocolate Fudge Cake or other sweet treat, you'll be glad you did.
Rose Water is all about classic NYC Dining given a strictly seasonal and largely organic makeover. So for a taste of what's in season served up by passionate professionals, this place has you covered. 
NYC
Visitor's Guide
Learn about all there is to do, see and experience in the world's greatest city!