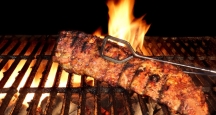 Quality Meats | NYC Dining
For fabulous steaks and other fare, visit Quality Meats for a memorable NYC Dining experience.
Address:
57 West 58th Street New York, NY 10019
Quality Meats
Cuisine: Steakhouse
Price: $$$$
Reservations: Taken
Neighborhood: Midtown
Hours:
Sunday – 5 p.m. to 10 p.m.
Monday through Wednesday – 5 p.m. to 10:30 p.m.
Thursday through Saturday – 5 p.m. to 11:30 p.m.
Open for lunch Monday through Friday – 11:30 a.m. to 3 p.m.
Is a fabulous steak what you crave? Head to Quality Meats – a local favorite Restaurant in New York City.
About Quality Meats:
It doesn't take a genius to figure out what this place is all about – classic NYC Dining that is all about the meat! Many locals consider Quality Meats to be 1 of the best steakhouses in the City. Consistently rated as one of NYC's most outstanding places for refined dining in a casual setting, Quality Meats serves up fabulous steaks that are cooked to order with flawless precision.
With a rich, rustic interior that in many ways echo those of a classic New York butcher shop, the atmosphere is characteristically warm and inviting. The service is just as warm, and every guest is treated like a VIP.
As for the menu, it's hardly surprising that the stars of the show are the melt-in-the-mouth steaks – all of which are locally sourced and seasoned to perfection. The 12-ounce Filet Mignon is an favorite pick, the Baby Back Ribs melt like butter, and the signature Seared Three Filets special combines 3 of the Restaurants best sellers.  
You don't have to worry about your steak being overdone or undercooked. Rest assured that if you order medium-rare that your steak will come just as you ordered. The chefs are diligent about sending the steaks out at the proper temperature.
Just as impressive as the steaks is the extensive wine list which features everything from the ordinary to the ostentatious. Try to save room for dessert.  Treats like The Cake Stand - a classic American chocolate cake, served with crème fraiche, port cherries, and spiced crunchies – are a memorable finish to a fabulous meal.
There are many Restaurants in New York City that serve amazing steak, but for carnivores who know the good stuff when they taste it, a visit to Quality Meats is a must during your next visit to the City. 
NYC
Visitor's Guide
Learn about all there is to do, see and experience in the world's greatest city!