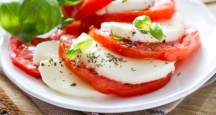 Quality Italian | Top NYC Restaurants
Quality Italian is an NYC Restaurant the dishes up some of the best Italian in the City.
Address:
57 West 57th Street New York, NY 10019
Quality Italian
Cuisine: Italian
Price: $$$$
Reservations: Taken
Neighborhood: Midtown
Hours:
Sunday – 11 a.m. to 10 p.m.
Monday through Wednesday – 11:30 a.m. to 10:30 p.m.
Thursday and Friday – 11:30 a.m. to 11:30 p.m.
Saturday – 11 a.m. to 11:30 p.m
When you want Italian food during your stay in New York, you'll have plenty of options. One top pick for Italian NYC Dining is Quality Italian.
About Quality Italian:
From the same guys who serve some of the City's best steaks at Quality Meats comes one of the best NYC Dining spots for those with a taste for Italy. And while high-quality steaks and other grilled meats do much of the talking at Quality Italian, it's all underscored with that unmistakable flavor of pure Mediterranean magic.
A place that melds fine dining with a relaxed and informal ambience, Quality Italian is a genuine standout among NYC Restaurants. Decorated and presented in the same classically rustic way as its sister restaurant, it's a little like enjoying a meal in an old NYC butcher's shop that was given a million dollar makeover. It's a wall-to-wall tale of outstanding coziness and a real feeling that you've discovered something special – a theory proven the moment you take your first bite.
Right off the bat, you may notice that the Raw Bar at Quality Italian is quite spectacular. Unpretentious and focused, the Cracked Lobster and Shellfish Bouquets are simple yet memorable. Moving onto the entrees, the Prime Aged Tomahawk Ribsteak is something of a legend in its own right, as is the Filet Mignon Gorgonzola Dolce. While the steaks are fabulous, many diners want to stick to Italian offerings like the Lamb Chops Scottadito, the Veal Chop Milanese or the Grilled Branzino with Pesto Rosso.
Indulge in something from the impressive wine list to make you NYC Dining experience at Quality Italian truly memorable. The sommelier will be happy to help you with selections, and there are wines to suit every taste and budget.
Add a visit to this NYC Restaurant to your list of Things to do in NY during your next visit to the City. 
NYC
Visitor's Guide
Learn about all there is to do, see and experience in the world's greatest city!