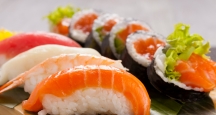 Nobu | NYC Restaurants
Visit Nobu for a Fine New York Dining experience.
Address:
40th W 57th Street New York, NY 10013
Nobu
Cuisine: Japanese/Sushi
Price: $$$$
Reservations: Taken 
Hours:
Every day: 11:45am-11pm
Nobu is one of the top choices for Fine New York Dining. When you want to enjoy a very special dinner, make reservations at this NYC Restaurant.
About Nobu:
This NYC Restaurant is known for producing amazing dishes using only the highest quality ingredients and employing a meticulous attention to detail. Many of the dishes are traditional, but there are also the inspired creations of Master Chef Matsuhisa. His dishes are driven by his commitment to the umami. When you sample the sweet, salty, bitter, and sour essence of these offerings, you will be delighted with the savory goodness.
You may want to treat yourself and your guest to the Omakase spread. This is a chef choice presentation. Each of the selections is quite different from the others. If you're fortunate, your Omakase may include some of the creations influenced by Masahisa's penchant for South American fish preparations that make his Japanese dishes extraordinary. 
In addition to offering a Fine New York Dining experience for an evening out, Nobu can also host your special event. The NYC Restaurant features a balcony area that is perfect for a cocktail party of 40 or less. There are also back room spaces suitable for 10 to 60 guests, and a mezzanine that is suitable for a wedding party of 150 to 180 guests.
Nobu offers one of the top Dining experiences in the City. If you want to experience a very special meal during your visit then this NYC Restaurant is a great choice. Whether you're celebrating a special occasion or just want to treat yourself to a splurge dinner, Nobu is a top choice.
Be sure to make your reservations well in advance as it is not uncommon for certain dates at Nobu to be booked up well in advance. A meal at this NYC Restaurant will be a highlight of your visit.
NYC
Visitor's Guide
Learn about all there is to do, see and experience in the world's greatest city!