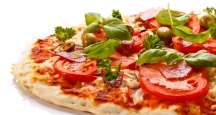 Lucali | NYC Dining
Lucali is a Casual NY Restaurant that serves some of the best pizza in NYC.
Address:
575 Henry Street Brooklyn, NY 11231
Lucali
Cuisine: Pizzeria
Neighborhood: Carroll Gardens
Price: $$
Reservations: Not taken
Hours: 
Wednesday through Monday – 6 p.m. to 10 p.m.
Tuesday - closed
Great pizza in New York can be found on every corner, and Lucali boasts some of the City's best.  
About Lucali:
While you wait in line, and you will, keep in mind that your wait is only half the time that Lucali spent cooking the old family-style sauce recipe. Keep in mind that your pie will come straight from the wood fired oven, and keep in mind that items on your pizza have not yet been cut and that your pie will be freshly prepared to order. In other words: It's worth the wait.
To enjoy this NYC Dining experience, you will need to show up early to add your name to the hour or so waiting list. No alcohol is served at this Casual NY Restaurants, but you are welcome to bring your own. Spend time chatting with the other patrons, and take in the quaint and cozy atmosphere.
Once you are seated you can watch the amazing kitchen in action. The dough is a thin style crust that is often rolled out with wine bottles. The pies are then laded with the special 5-hour tomato sauce, and topped with the freshly sliced items of your choice.
Besides the pizza, calzone is the only other item on the menu. The massive calzone is filled with a quality ricotta cheese and wine soaked sausages along with other freshly cut items of your choice.
Keep in mind that this is a cash-only Restaurant, so come prepared. A visit here might not completely settle in your mind which NYC Dining spot serves the best pizza, but you'll at least have another Casual NY Restaurant to add to your short list.
NYC
Visitor's Guide
Learn about all there is to do, see and experience in the world's greatest city!