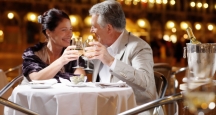 La Grenouille | French Restaurants NYC
La Grenouille stands out among French Restaurants in NYC for those who want a fine NY Dining experience.
Address:
3 East 52nd Street New York, NY 10022
La Grenouille
Cuisine: French
Neighborhood: Midtown East
Price: $$$$
Reservations: Taken
Hours: 
Thursday through Saturday – 12 p.m. to 2:30 p.m. and 5 p.m. to 10:30 p.m.
Looking for a fine French Restaurant in NYC? Consider enjoying a fine NY Dining experience at La Grenouille.
About La Grenouille:
There is much competition in New York City to see which NY Restaurants will be among the best NYC Restaurants. Not only do established and new eateries have to excite diners with food to stay on top, they have to provide an atmosphere for NYC Dining that is above the rest. La Grenouille has managed to stay a cut above other NYC Restaurants since it opened, and it has led the pack of New York City French Restaurants. NYC's La Grenouille is a Midtown East gem that any NYC diner should try.
La Grenouille has much going for it. It offers a great mix of classic and new – as applied to the NYC Restaurant's cuisine and its elegant interior. Le Grenouille embodies what a refined, traditional French bistro should be – but it is at the same time contemporary.
Dine at La Grenouille and enjoy modern French fare that is absolute impeccable – in flavor and in presentation. La Grenouille offers a 3-course prix fixe lunch and a multi-course dinner, with prices starting at about $65 per person.
For a meal at La Grenouille, you'll sit in a beautiful dining room – one that is among the most gorgeous in New York City. Dishes are impressive and surprising, which keeps many New Yorkers and tourists coming back over and over again.
If you're looking for the best New York French Restaurants, NYC's La Grenouille is a must-try spot. This NYC eatery is truly divine, and luckily for those staying in a Midtown NY Hotel, it's just moments away.
NYC
Visitor's Guide
Learn about all there is to do, see and experience in the world's greatest city!