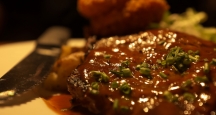 Keen's Steakhouse | NYC Steakhouse
An NY Accommodation in Midtown is close to many top NY Restaurants. Some opt for an NYC Steakhouse like Keen's Steakhouse.
Address:
72 West 36th Street New York, NY 10018
Keen's Steakhouse
Cuisine: Steakhouse
Neighborhood: Midtown West
Price: $$$
Reservations: Taken
Hours: 
Monday through Friday – 11:45 a.m. to 10:30 p.m.
Saturday – 5 p.m. to 10:30 p.m.
Sunday – 5 p.m. to 9:30 p.m.
Keen's Steakhouse is an NYC Steakhouse that is one the must-try list of many who visit New York City.
About Keen's Steakhouse:
Many NYC diners want to try an NYC Steakhouse during their visit to Manhattan. While there are several NYC Steakhouses to choose from, one of the most popular is Keen's Steakhouse in Midtown.
Keen's Steakhouse is an NYC Steakhouse that serves up a bit of history with its food. This New York City eatery houses the largest collection of churchwarden pipes in the world, which is unusual considering the tradition of checking one's pipes at the inn had its origins in 17th-century England.
During this time, travelers would keep their clay at their favorite inn. Their thin-stemmed pipe was too delicate to be carried in a saddlebag, so they would check it at the inn's door for safekeeping. Since the Elizabethan times, pipe smoking has been a popular activity, as it was once thought to be beneficial for dissipating "evil homourse of the brain."
While most people don't believe this story anymore, or carry pipes that need to be put away by innkeepers, the interesting tradition is something that draws many into Keen's.
After diners arrive at Keen's - and get a little history lesson - they typically move on to dining. They choose menu items like Mutton Chops, among other meats. Keen's, in fact, is known well over the world as the King of Mutton Chops.
If your idea of top New York Dining is eating at another type of NYC Restaurant and – perhaps – not an NYC Steakhouse, you'll surely be happy to know that NYC Accommodations in Midtown are near many other great New York City Restaurants. Whether you're looking for steakhouses, pizza joints, upscale or casual vegetarian restaurants, or other NYC eateries, you'll find them all within minutes of an NYC Accommodation in Times Square, near Central Park, or even in the Broadway Theater District.
NYC
Visitor's Guide
Learn about all there is to do, see and experience in the world's greatest city!