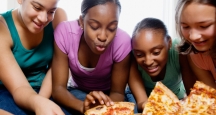 Joe's Pizza | NYC Pizza Restaurants
Best Pizza on Earth? That's what GQ said about Joe's Pizza – a popular Restaurant in NY.
Address:
7 Carmine Street New York, NY 10014
Joe's Pizza
Cuisine: Pizzeria
Neighborhood: Greenwich Village
Price: $
Reservations: Not taken
Hours: 
Monday through Friday – 10 a.m. to 4:30 p.m.
Craving pizza? You're in the right City! Joe's Pizza is one of the many NYC Pizza Restaurants loved by both locals and visitors.
About Joe's Pizza:
Joe's Pizza in Greenwich Village is a staple for many New Yorkers. Some even say the pizzeria is often called a "Greenwich Village institution." Joe's is one of the most popular NYC Pizza Restaurants because it offers a classic New York slice of pie – which it has done for more than 35 years.
Joe's Pizza served its first customers from a small corner location at Bleecker and Carmine Street. Today, Joe's feeds hungry New York locals and visitors from another jam-packed spot – just 3 doors down from the original location.
At 75 years of age, Joe Pozzuoli still owns and operates Joe's Pizza. He takes charge of the pizzeria, doing what he needs to do to keep the eatery a magnet for diners who want an authentic New York pizza pie. Joe's Pizza has been called the "Best of New York" by New York Magazine and other reviews say Joe's offers the "quintessential New York Slice." This is a mighty feat, considering that there are NYC Pizza Restaurants on what seems like every block in Manhattan.
GQ Magazine listed Joe's Pizza as one of the Best 25 Pizzas on Earth in 2009. Since day one, however, Joe's Pizza has been a hit with New York residents and tourists. Joe's is the epitome of a neighborhood pizza joint – as it doesn't have any fancy backing, just great pizza and friendly service.
NYC
Visitor's Guide
Learn about all there is to do, see and experience in the world's greatest city!