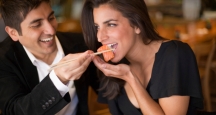 Jewell Bako | Japanese Restaurants NYC
Jewell Bako is a delicious example of Japanese Dining in NYC.
Address:
239 East 5th Street New York, NY 10003
Jewell Bako
Cuisine: Sushi/Japanese
Neighborhood: East Village
Price: $$$
Reservations: Taken
Hours: 
Monday through Thursday – 6:30 p.m. to 11:30 p.m.
Friday and Saturday – 6:30 p.m. to 12 a.m.
Sunday – closed
For sushi and other Japanese fare, head to Jewell Bako for a memorable experience Dining in NYC.
About Jewell Bako:
At Jewell Bako in the East Village, enjoy traditional sushi served in a contemporary way. Jewell Bako is a gem among New York City Japanese Restaurants. NYC has so many places for dining on sushi, but sushi prepared with seasonal ingredients - and served with artisan spirits - is what sets this Manhattan hotspot apart from the rest. 
Jewell Bako crafts extraordinary, exotic dishes made with the finest of what's locally available - and of the highest quality. Choosing the right basics lends to perfect visional execution and dynamic flavor – a combination that is highly-coveted and appreciated among NYC diners.
Jewell Bako presents sushi as art. This NYC Restaurant carefully balances various French and Japanese culinary techniques to come up with sushi that is absolutely incredible. If you're looking for the best Sushi in NYC – or Japanese food in New York City – sit down to dinner at Jewell Bako.
In addition to great food, you'll find fabulous sakes and phenomenal hand-selected wines at Jewell Bako. Among Japanese Restaurants, NYC's Jewell Bako also offers one of the best spaces for NYC Dining – the NYC Restaurant's intimate dining room is one of the most beautiful you'll find in Manhattan.
Jewell Bako has earned a Michelin Star for 9 consecutive years, making it one of the top New York City Japanese Restaurants. Add a visit to your itinerary during your next stay. 
NYC
Visitor's Guide
Learn about all there is to do, see and experience in the world's greatest city!