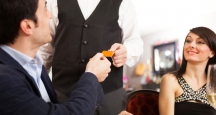 Jean Georges | NYC Fine Dining
Jean Georges is a top NY Restaurant and a meal here will be a memorable part of your visit to the City.
Address:
1 Central Park West New York, NY 10023
Jean Georges
Cuisine: French/Asian
Neighborhood: Upper West Side
Price: $$$$
Reservations: Taken
Hours: 
Monday through Friday – 11:45 a.m. to 11 p.m.
Enjoy fabulous French/Asian cuisine and an NYC Fine Dining experience at Jean Georges, a top NY Restaurant.  
About Jean Georges:
Jean Georges opened in 1997 to immediate critical acclaim. This NYC Fine Dining gem from Chef Jean Georges Vongerichten is one of many in the chef's empire – and as the others do, it consistently brings in awards. Jean Georges has earned several 4-star reviews by The New York Times and many 3-star ratings from Michelin.
While Jean Georges is just as popular and successful as the other NYC Restaurants in Chef Georges' collection, Jean Georges sets itself apart by presenting dishes that blend American, French, and Asian influences.
Each menu item offered at Jean Georges is exquisitely-crafted with the season's best ingredients – most of which come from the New York City's top farmers' markets. Jean Georges provides NYC diners with signature plates that showcase the best in contemporary fusion cuisine. Jean Georges' offerings give much to delight in - visually and for the palate.
Jean Georges boasts a wonderful 3-course prix fixe menu and 2 6-course tasting menus, each of which highlight the chef's top creations. To compliment an exquisite dish at Jean Georges, NYC diners enjoy a relaxed NYC Dining experience in a chic and intimate dining room – one that was redesigned by Thomas Juul-Hansen.
Jean Georges' interior space is striking. The NYC Fine Dining eatery features stunning lighting elements and floor-to-ceiling windows that look out over Columbus Circle – and Central Park (if you're lucky you'll get one of these coveted tables). Jean Georges' is a great place for NYC Fine Dining for romantic dinners, special occasions, or just gathering with family and friends.
NYC
Visitor's Guide
Learn about all there is to do, see and experience in the world's greatest city!