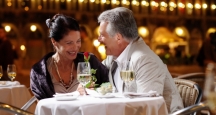 Il Mulino | Fine Dining NYC
Enjoying Fine Dining in NYC is one of the top Things to do in New York. For an upscale experience Dining in NYC, choose Il Mulino in Greenwich Village for Italian cuisine.
Address:
86 West 3rd Street New York, NY 10012
Il Mulino
Cuisine: Italian
Neighborhood: Greenwich Village
Price: $$$$
Reservations: Taken
Hours: 
Monday through Friday – 12 p.m. to 2:30 p.m. and 5 p.m. to 11 p.m.
Saturday – 5 p.m. to 11 p.m.
Sunday – 4 p.m. to 10 p.m.
Enjoy fabulous Italian food and Fine Dining in NYC at Ill Mulino.
About Il Mulino:
There are many great destinations for Fine Dining in NYC, but one of the best is Il Mulino. Il Mulino has offered exquisite Italian cuisine to New York City for more than 20 years. This Greenwich Village gem focuses on creating authentic dishes from the Abruzzo region of Italy, which is what sets this NYC eatery apart from other Italian Restaurants offering New York City Fine Dining. NYC's Il Mulino sits on West 3rd Street, moments from a Midtown Manhattan Hotel or a Central Park Hotel.
If you're looking for Things to do in New York, consider spending an evening out enjoying New York Fine Dining. NYC's Il Mulino is a great choice for upscale Dining in NYC because it offers extraordinary dishes and exemplary service – a winning combination that continues to makes the eatery a top choice among all Restaurants in NYC.
Cuisine at Il Mulino is prepared honestly and expertly. At Il Mulino, you won't find any overwhelming flavors or strange combinations of ingredients. You'll just enjoy high-quality fare that is crafted to allow each food to stand out on its own merit.
Il Mulino is an old-school type of destination for New York City Fine Dining. NYC diners often think a top Manhattan Restaurant should offer service that is quick. But, fast doesn't always mean the best. At Il Mulino, take the entire NYC Dining experience into consideration and cherish the fact that your dinner comes out at a rather slow pace. This allows for plenty of conversation – and the opportunity to fill up on free snacks that arrive before the entrees are ready.
Are you looking for an NYC Hotel that is close to top places for New York Fine Dining? NYC Hotels in the Broadway Theater District - and near Central Park - are great choices. These NYC Hotels have many options for Things to do in New York close by too.
NYC
Visitor's Guide
Learn about all there is to do, see and experience in the world's greatest city!