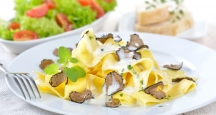 Il Buco | Restaurants in NYC
Il Buco is an Italian Restaurant in NYC that offers a fine New York Dining experience.
Address:
47 Bond Street New York, NY 10012
Il Buco
Cuisine: Mediterranean
Neighborhood: NoHo
Price: $$$
Reservations: Taken
Hours:
Monday through Thursday – 12 p.m. to 11 p.m.
Friday and Saturday – 12 p.m. to 12 a.m.
Sunday – 5 p.m. to 10:30 p.m.
If you're interested in the short list of Italian Restaurants in NYC that meet the mark every time, then you will want to visit Il Buco.
About Il Buco:
Il Buco is known for its extensive selection of appetizers, fine wines and great entrees, Il Buco is the exception in Italian dining. From the cheeses and breads, to the sour apple tart, your first taste will convince you that you have found 'the place' for perfect Italian offerings.
Il Buco is one of the Restaurants in NYC that you will want to make a reservation for ahead of your visit. This Italian restaurant is often packed, because it delivers everything you'd expect in an Italian New York Dining experience. Ambience, and quality full flavored foods - all meticulously and artfully seasoned – are what keeps guests coming back time after time.
You can start your meal with a charcuterie platter and burrata or the fabulous croquettes. For your entrée, consider the Tagliatelle Bolognese. The traditional spaghetti plate is delicious and the portion is large enough to satisfy the biggest appetites.
Il Buco uses only the finest and freshest ingredients. All meat products come from naturally sustainable farms and do not use hormones, antibiotic, pesticides, or herbicides. When a needed ingredient cannot be found locally, it is imported from Italy.
The wine list at this New York Dining spot is as impressive as the food. Enjoy fine wine by the bottle or by the glass. There are options on the list to suit any budget.  The charming rustic atmosphere is colored with fresh flowers and sparkling with candles. This cozy vibe makes Il Buco a perfect choice for a romantic night out.
During your next stay in the City, enjoy fine New York Dining with a visit to Il Buco – a popular Restaurant in NYC.
NYC
Visitor's Guide
Learn about all there is to do, see and experience in the world's greatest city!