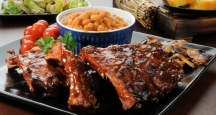 Hill Country Barbecue | NYC Barbeque Restaurants
Craving barbecue during a visit to the City? Stop by a NYC Barbecue Restaurant like Hill Country Barbecue.
Address:
30 West 26th Street New York, NY 10010
Hill Country Barbecue
Cuisine: Barbecue
Neighborhood: Flatiron District
Price: $$
Reservations: Taken
Hours: 
Sunday through Wednesday – 12 p.m. to 10 p.m.
Thursday – 12 p.m. to 11 p.m.
Friday and Saturday – 12 p.m. to 12 a.m.
If you don't think New York City has great barbecue then  you haven't been to Hill Country Barbecue – one of the best NYC Barbecue Restaurants.
About Hill Country Barbecue:
Many NYC Diners who are looking for NYC Barbeque Restaurants end up at Hill Country Barbeque in the Flatiron. This NYC eatery offers authentic, Texas-style barbeque that leans heavily on dry-rub-style meats. All barbeque at Hill Country is cooked on the premises, smoked over Texas post oak and served on butcher paper – counter-style by the pound, just like tradition dictates in Central Texas.
Hill Country Barbecue's menu consists primarily of brisket, sausage, ribs, and other smoked meats.
There are a few comfort-style sides available at Hill Country – like Longhorn Cheddar Mac & Cheese – and a couple of desserts appear on the menu like Peanut Butter & Jelly Cupcakes.
Executive Chef Elizabeth Karmel presides over Hill Country Barbeque, turning out dishes that are updated versions of classics. Hill Country's marketplace is quite popular with NYC Diners, as it offers popular items like Big Red Sodas, Blue Bell ice creams, and Kreuz Market sausages.
Hill Country Barbeque serves a wide selection of longneck beers, special cocktails, tequilas, and bourbons. Along with a meal and a drink at Hill Country, diners are able to listen to American Roots music.
Enjoy an amazing meal that will fit any budget at Hill Country Barbecue – a NYC Barbecue Restaurant. 
NYC
Visitor's Guide
Learn about all there is to do, see and experience in the world's greatest city!