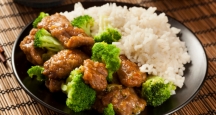 Han Dynasty | NYC Chinese Restaurants
Han Dynasty is an example of a casual NYC Chinese Restaurant.
Address:
90 3rd Avenue New York, NY 10003
Han Dynasty
Cuisine: Chinese
Neighborhood: East Village
Price: $
Reservations: Taken for groups of 8 or more
Hours: 
Sunday through Wednesday – 11:30 a.m. to 10:30 p.m.
Thursday through Saturday – 11:30 a.m. to 11 p.m.
Looking for a NYC Chinese Restaurant to fit your budget? Consider Han Dynasty – a casual Restaurant in NY.
About Han Dynasty:
Where are the best NYC Chinese Restaurants? They're all over New York City, including in the East Village. Head to the East Village to enjoy great Chinese food at Han Dynasty, one of the top NYC Chinese Restaurants for those who enjoy having many options to choose from.
Han Dynasty presents a large variety of dishes – with many textures and flavors – that satisfy most palates. Chinese food can vary so much – from restaurant to restaurant and even from region to region. At Han Dynasty, you'll delight in many kinds of offerings – choices that run the gamut of ways to prepare Chinese cuisine.
Dine at Han Dynasty and eat tasty - and authentic - food that is priced very affordably. Try top dishes like wonton soup, veggies and garlic sauce, and delectable dumplings. Han Dynasty's menu relies heavily on meat items like pork and seafood – and we've surprisingly seen rabbit on a few plates – but diners who opt for veggies can find something on this NYC Chinese Restaurant's menu too.
Han Dynasty is a charming NYC eatery that is perfect for families or for casual Dining in NYC. It features a counter with lucky coins embedded in it and its walls are decorated with oil paintings (one depicts the Han Dynasty prices and poets) that appear to have been purchased from a Hong Kong back-alley gallery.
Polished wood tables are neatly set with red chopsticks and patrons are waited on by busboys who wear crisp crimson shirts. The smell of house-made noodles permeates throughout this NYC Chinese Restaurant's dining room, which is warm and welcoming.
Han Dynasty is a great choice among NYC Chinese Restaurants, but if you're looking for other Restaurants in NYC, you have many options. Stay at an NYC Hotel like a Central Park Hotel and find all of the best NYC Restaurants nearby: Chinese Restaurants in NYC, New York City vegetarian Restaurants, Italian Restaurants in NYC, and more.
NYC
Visitor's Guide
Learn about all there is to do, see and experience in the world's greatest city!