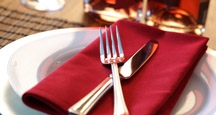 The Grocery | Brooklyn Restaurant
The Grocery is a popular Brooklyn Restaurant that is worth a visit during your stay.
Address:
288 Smith Street Brooklyn, NY 11231
The Grocery
Cuisine: American
Neighborhood: Carroll Gardens
Price: $$$
Reservations: Taken
Hours: 
Monday – closed
Tuesday through Thursday – 5:30 p.m. to 10 p.m.
Friday and Saturday – 5:30 p.m. to 11 p.m.
Sunday – closed
The Grocery is a Brooklyn Restaurants that reminds diners why NY Dining is some of the best in the world.
About The Grocery:
Are you looking for an NYC Hotel that is close to top Brooklyn Restaurants, in addition to top Restaurants in Manhattan? Choose an NYC Hotel in Midtown Manhattan and you'll be moments from the best eateries in all of NYC – including Brooklyn gems like The Grocery.
The Grocery co-chefs and co-owners, Sharon Pachter and Charles Kiely, delight in serving innovative American fare to New York locals and visitors. Pachter and Kiely met while working together at Savory, a top Restaurant in NYC. During their time as colleagues at Savory, the 2 found that they had similar ideas of what quality cuisine should be like.
Pachter and Kiely collaborated on a new venture that would take what they loved about Savory's approach to fine dining – a low-key vibe and an intimate atmosphere – and perfect it.
In The Grocery, Pachter and Kiely offer New York diners a 30-seat, mom-and-pop-type space that exudes charm. This Brooklyn Restaurant's best feature is – of course – its food, but a close second is the small, cozy garden that is perfect for NYC dining during warmer months.
Dine at The Grocery and enjoy inspired dishes like broccoli rabe and arctic char, with a gingery stew of chickpeas and tomatoes. For dessert, choose decadent goodies like fig cake, coconut ice cream, or passion fruit sorbet – all comfort fare that is delightfully-reimagined for contemporary NYC diners.
One of the many great things about The Grocery is the Brooklyn Restaurant's 4-course vegetarian garden dinner, which is just $40 and is absolutely fabulous. This and many other menu items at The Grocery help to make the Caroll Gardens eatery one of the top Brooklyn Restaurants.
NYC
Visitor's Guide
Learn about all there is to do, see and experience in the world's greatest city!