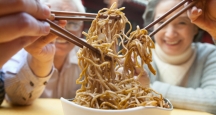 Grand Sichuan | Chinese Restaurants in NYC
Grand Sichuan is a delicious example of why the Chinese Restaurants in NYC are some of the country's best.
Address:
229 9th Avenue New York, NY 10001
Grand Sichuan
Cuisine: Chinese
Neighborhood: Chelsea
Price: $$
Reservations: Not taken
Hours:  Monday through Sunday – 11:30 a.m. to 11 p.m.
Fabulous food at a great price is what you'll find at Grand Sichuan – a popular Chinese Restaurant in NYC.
About Grand Sichuan:
Looking for top Chinese Restaurants in NYC? You'll find some great ones all over Manhattan, but a favorite among NYC locals is Grand Sichuan. Grand Sichuan is chainlet that has blazed across New York City, leaving a hot pepper trail of satisfied diners from Chinatown to Chelsea.
You'll find Grand Sichuan Chinese Restaurants in NYC on 9th Avenue, in Murray Hill, on 2nd Avenue, and on St. Mark's Place. Each of the Grand Sichuan Chinese Restaurants in NYC features the same great food – humble, but incredible, dishes like shredded potatoes topped with vinegar sauce.
At Grand Sichuan, enjoy appetizers like vegetable rolls, dumplings, wonton soup, and scallion rolls. Dine on scrumptious entrees like vegetarian hot and sour soup, fried rice, mandarin noodle soup, and pickled cabbage.
Grand Sichuan offers a large selection of poultry, beef, and seafood – but you'll find many veggie options too like bean curd with vegetables, sesame tofu, broccoli with garlic sauce, and Moo Shu vegetable. One of the most popular plates at Grand Sichuan is the steamed vegetables with black bean sauce.
In a City with amazing Chinese food on every block, this is 1 Chinese Restaurant in NYC that you should add to your do-not-miss list. 
NYC
Visitor's Guide
Learn about all there is to do, see and experience in the world's greatest city!