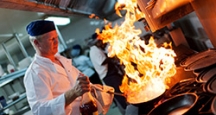 Gotham Bar & Grill | New York Restaurants
Gotham Bar & Grill is 1 of the many New York Restaurants where you can experience fine Dining in NY.
Address:
12 East 12th Street, Between Fifth Avenue & University Place, New York City, NY 10003
Gotham Bar & Grill:
Cuisine: Contemporary American
Price: $$$$
Reservations: Taken
Neighborhood: Greenwich Village
Hours:
Sunday through Wednesday – 5:30 p.m. to 10 p.m.
Thursday through Saturday – Noon to 1 p.m., and 5:30 to 10 p.m.
Experience fine Dining in NY at a Michelin Star-rated New York Restaurant with a visit to Gotham Bar & Grill.
About Gotham Bar & Grill:
Where does Gotham Bar & Grill rank among other New York Restaurants? If you listen to the folks at Zagat, it's quite simply the best American Restaurant in NYC – and the best place for bar Dining in NYC to boot.
Part of the elite New York Dining scene for over 25 years, Gotham Bar & Grill is a Michelin Star-awarded eatery where excellence and exclusivity take on new meanings. Some argue that the retention of the dining room's old-school décor builds stuffiness, but for those looking for that quintessential fine dining experience that's just unmistakably NYC-born and bred, it's about as good as it gets.
Top marks always go the way of the Gotham Bar & Grill, a New York Restaurant that manages to walk that highly difficult line that separates attentiveness with intrusion. There to answer to your every whim and yet discrete enough for the most romantic of dinner outings, every host and server is a consummate professional and a credit to the Restaurant's name.
Gotham Bar & Grill offers a variety of menus including Lunch, Dinner, A Taste of the Gotham Riviera and an always-popular $35 Green Market Lunch Prix Fixe option. Among the New York Restaurant's signature dishes and highlights, the Wild Striped Bass Ceviche, Label Rouge Chicken, and Foie Gras Terrine make for outstanding appetizers, while the Maine Lobster and 28 Day Dry Aged New York Steak entrees never fail to satisfy.
And of course, Gotham Bar & Grill is just as famed for its masterpiece cocktail collection, featuring Eastern Travels and the truly indulgent Blackberry & Sage Smash.
Gotham Bar & Grill is undoubtedly one of the top picks when you want a New York Restaurant for a serious splurge, though play your cards right with a lunch booking and it can be a surprisingly affordable experience. 
NYC
Visitor's Guide
Learn about all there is to do, see and experience in the world's greatest city!