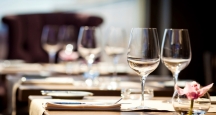 The Four Seasons | Top Restaurants in NYC
Choose a Hotel in NY's Midtown area and be close to Top Restaurants in NYC like The Four Seasons.
Address:
99 East 52nd Street New York, NY 10022
The Four Seasons
Cuisine: American
Neighborhood: Midtown East
Price: $$$$
Reservations: Taken
Hours: 
Monday through Friday – 12 p.m. to 2:30 p.m. and 5 p.m. to 9:30 p.m.
Saturday – 5 p.m. to 10 p.m.
The Four Seasons is 1 of the Top Restaurants in NYC, and dinner here is a highlight of any visit.
About The Four Seasons:
The Four Seasons opened in 1959 and quickly became one of the Top Restaurants in NYC – and in the world. This upscale NYC Restaurant is credited with introducing the seasonally-changing menu to America – a concept that has really taken flight in metro areas like Manhattan.
Diners love The Four Seasons because they can count on getting quality meals made from the best produce that is available at any given time. Whether you dine in the spring, summer, fall, or winter, you'll enjoy superb dishes at The Four Seasons that take advantage of the earth's most glorious offerings.
The New York Times raves that lunches and dinners at The Four Seasons are "enough to make you moan." The Four Seasons not only delights on the culinary front, it offers one of the most outstanding NYC Restaurant settings you'll find – even among the very Top Restaurants in NYC.
Modern architects Phillip Johnson and Mies van der Rohe designed The Four Seasons' space. This top NYC eatery features 2 public dining rooms – both of which are absolutely extraordinary places for NYC Dining.
The Four Seasons is a favorite NYC Fine Dining Restaurant among locals, tourists, and food critics. This gem in Manhattan has found itself placed among the company of Top Restaurants in NYC because it showcases the art of working with what Mother Nature gives us – and they perfect the method of delicately enhancing it.
Dine at The Four Seasons and enjoy a menu that New York Magazine says offers "surprisingly adventurous new flavors and marvelous pairings."
Choose from a la carte items or tasting menus at The Four Seasons – your available menu will depend on the day and time that you Dine in NYC. The Four Season's Pool Room typically features multi-course tasting dinners, which are surprisingly priced at a good value. In The Four Seasons' Grill Room, you'll find power lunchers dining on more casual fare – cuisine that is still impeccable, however, and a cut above what you'll find at many Manhattan Restaurants.
Are you looking for a Hotel in NY that is close to all of the Top Restaurants in NYC? Choose a Hotel in NY's Broadway Theater District - or a Central Park Hotel - and you'll be near top NYC Restaurants like The Four Seasons and other popular Manhattan eateries.
NYC
Visitor's Guide
Learn about all there is to do, see and experience in the world's greatest city!