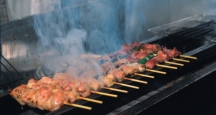 Fette Sau | NY Restaurants
Fette Sau is an NY Restaurant that serves barbecue smoked to perfection.
Address:
354 Metropolitan Avenue Brooklyn, NY 11211
Fette Sau
Cuisine: Barbecue
Neighborhood: Williamsburg
Price: $$
Reservations: Not taken
Hours:
Monday through Thursday – 5 p.m. to 11 p.m.
Friday through Sunday – 12 p.m. to 11 p.m.
If you are craving Barbeque, then Fette Sau will need to be your only destination. This is a top shelf operation that serves only the finest meats, all dry-rubbed in the Fette Sau recipe, and smoked to perfection.
About Fette Sau:
The casual atmosphere and the available outdoor seating make the Fette Sau a top pick of both locals and visitors.  Dining is cafeteria style and take out is also available. There is both street and bicycle parking and catering is available which is handy if you're hosting an Event.
With over 30 types of meat entrees to choose from, Fette Sau will appeal to everyone in your party. The pork, lamb, ham, and beef, are all dry rubbed and smoked to perfection. The side dishes are a great pairing to any meat choice and every meal is served with a locally made potato roll. The lunch and dinner plates offer large portions. Add a homemade side dish for an even more filling meal. Popular side dishes include delicious broccoli salad, a German potato salad, the burnt end baked beans, and some half-sour pickles that are a local favorite.
All meats are supplied from local small family farms using heritage breed livestock. From the classic pork barbeque, quality sausages, fine sauces, perfect side dishes, potato rolls, and mouthwatering desserts, you'll want to come back again and again.
Meat selections may change daily based on availability, but everyday there are at least 6 offering to order for you main entrée. Among the NY Restaurants that serve barbeque, the Fette Sau is on the top of the list. This place will become one of your favorite. The neighborhood locals rave about the signature broccoli salad and the key lime tarts, and you are sure to find a dish that will bring you back again and again.  
NYC
Visitor's Guide
Learn about all there is to do, see and experience in the world's greatest city!