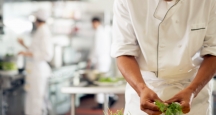 Estiatorio Milos | Restaurants NYC
A Midtown Hotel in NY is a great choice for those who want to be near the top New York Restaurants. NYC's Estiatorio Milos is a popular high-end Restaurant in New York City.
Address:
125 West 55th Street New York, NY 10019
Estiatorio Milos
Cuisine: Mediterranean
Neighborhood: Midtown
Price: $$$$
Reservations: Taken
Hours: 
Monday through Saturday – 12 p.m. to 11:30 p.m.
Sunday – 12 p.m. to 10:30 p.m.
Enjoy fine Mediterranean cuisine at Estiorio Milos – a popular Restaurant in NYC.
About Estiatorio Milos:
Estiatorio Milos is one of the most popular New York City Restaurants. NYC residents and visitors flock to this Midtown hotspot to enjoy spectacular Mediterranean cuisine in a setting that is one of the best in Manhattan. Estiatorio Milos sits at the foot of Avenue of the Americas Plaza – a premier NYC setting – and it serves food that diners come back for time and time again.
At Estiatorio Milos, enjoy an extraordinary meal in the heart of New York City. Escape to Estiatorio Milos and relax over a dish that has been prepared with the freshest of ingredients – and consider lingering over a spectacular bottle of wine.
Estiatorio Milos' focus has always been on finding the best that the world has to offer - and delivering it to New Yorkers and tourists. This NYC Restaurant's staff picks the top-quality produce, uses the most delectable of ingredients – like pure honeys, and offers so much more for an NYC diner searching for a superb meal.
Estiatorio Milos' dedication to serving its customers the best has helped make the eatery one of the most popular New York City Restaurants. NYC diners will surely appreciate the fact that this New York Restaurant consistently goes out of its way to partner with suppliers - and producers - who are of uncompromising quality and uniqueness.
For one of the top Manhattan Restaurants, NYC's Estiatorio Milos is a great choice. Lunches and dinners served at this NYC Restaurant are simple and clean - utilizing ingredients that are distinct and pure. You won't find any forceful flavors or sauces covering up anything at Estiatorio Milos. You'll simply enjoy honest preparation and each food's raw essence. Estiatorio Milos asks its patrons to consider, "Why interfere with what nature has already mastered?"
If you're looking for a Hotel in NY that is close to top New York City Restaurants, NYC Hotels in the Broadway Theater District and Hotels near Central Park are ideal. A Hotel in NY near Central Park will also be close to top Things to do in NYC, such as exploring Central Park, Shopping in NYC, and visiting top NYC Attractions.
NYC
Visitor's Guide
Learn about all there is to do, see and experience in the world's greatest city!