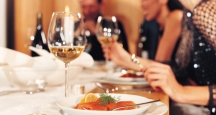 Eleven Madison Park | NY Dining
Make a reservation at Eleven Madison Park for a fine NY Dining experience.
Address:
11 Madison Ave, New York City, NY 10010
Eleven Madison Park
Cuisine: American/French
Price: $$$$
Reservations: Taken
Neighborhood: Flatiron
Hours:
Sunday through Wednesday – 5:30 p.m. to 10 p.m.
Thursday through Saturday – Noon to 1 p.m., and 5:30 to 10 p.m.
If you want to enjoy a fine NY Dining experience then Eleven Madison Park is a perfect choice of an NYC Restaurant.
About Eleven Madison Park:
Undeniable sophistication made unpretentious and incredibly enjoyable, Eleven Madison Park encapsulates all that's fantastic about high-end NY Dining.
To experience the fabulous tasting menu, you'll need to set aside about 3 hours. They will be hours well spent. What's actually on the menu is an unashamedly lavish tasting menu the likes of which takes everything you think you know about fine dining and garnishes it with a 21st century reality check.
Quite simply, Eleven Madison Park does things with food and flavors you never dreamed possible.
There are no menus when you're seated and diners really get very little say as to what's served up. Instead, a quick conversation with the table's host irons out any potential allergies and aversions. What follows is an exquisitely prepared and orchestrated twelve-course gastronomic opera that's more captivating and memorable than even the best Broadway show.
Menus change daily in order to make room for the freshest ingredients, but suffice it to say you'll taste treasures from the land, sea, earth and air. Presentation treads that very fine line between outstanding and just plain showing-off, but to be honest in this kind of setting there's room for little less than the ostentatious. And when you're paying $225 per head, a good dose of flair is the least you can expect.
One of the most exceptional and extraordinary upmarket NY Dining experiences by far, Eleven Madison Park is less of a New York Restaurant and more of a culinary theatre - and it's one that's worth every penny. 
NYC
Visitor's Guide
Learn about all there is to do, see and experience in the world's greatest city!