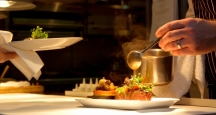 Dovetail | New York Restaurants
Dovetail is a New York Restaurants that offers a wonderful example of fine Dining in New York.
Address:
103 West 77th Street New York, NY 10024
Dovetail
Cuisine: American
Neighborhood: Upper West Side
Price: $$$$
Reservations: Taken
Hours: 
Monday through Thursday – 5:30 p.m. to 10 p.m.
Friday and Saturday – 5 p.m. to 10:30 p.m.
Sunday – 11:30 a.m. to 2 p.m. and 5 p.m. to 10 p.m.
When you want to enjoy a very special experience while Dining in New York, choose a top New York Restaurant like Dovetail.
About Dovetail:
Dovetail sits steps from Central Park, near the American Natural History Museum and close to some of the best Shopping in NYC.
After a day of NYC sightseeing, consider enjoying a meal at Dovetail. This extraordinary destination for Dining in New York is intimate and elegant. It offers one of the most delightful and upscale NYC Dining experiences, one that revolves around Chef John Fraser's award-winning American cuisine.
Chef Fraser loves to use seasonal, farm-fresh ingredients for his dishes – which helps to put Dovetail atop any list of "Best New York Restaurants." His impeccably-executed menu has earned him a coveted Michelin star for 3 years - and he received 3 prestigious stars from Frank Bruni of The New York Times in 2008.
Chef Fraser has had – and still enjoys – a most extraordinary culinary career. He began cooking in Los Angeles and then moved to Napa Valley, to refine his expertise under the mentorship of Thomas Keller at The French Laundry.
Chef Fraser broadened his perspective on high-end global cuisine after a move to Paris, where he cooked at the revered Maison Blanche and Taillevent.
Back in NYC, he became Executive Chef at Compass. In 2006, he was named 1 of only 4 young chefs to watch in America by Esquire Magazine. Since opening Dovetail in 2007, Chef Fraser has received much praise from critics working for New York Magazine, The New York Daily News, Time Out, and The New York Observer.
If you're looking for a place for upscale Dining in New York, sit down to a meal at Dovetail. Dovetail serves dinner from Monday to Saturday, and the NYC Restaurant offer brunch and dinner on Sundays.
NYC
Visitor's Guide
Learn about all there is to do, see and experience in the world's greatest city!