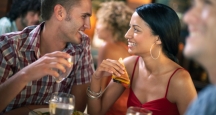 Ditch Plains | Restaurants in NY
Not all Restaurants in NY require a coat and tie. Ditch Plains is a great example of casual NY Dining.
Address:
29 Bedford Street, New York, NY 10014
Ditch Plains
Cuisine: Seafood
Neighborhood: Upper West Side
Price: $$
Reservations: Taken
Hours: 
Monday through Sunday – 11 a.m. to 2 p.m.
Enjoy casual NY Dining at moderately-prices Restaurants in NY like Ditch Plains.
About Ditch Plains:
There are so many Restaurants in NY to choose from. So, how do you know which NYC eatery is better than the others? Sometimes it's best to get recommendations from someone who dines in New York City on a constant basis.
If you ask a New Yorker where the top Restaurants in NY are – on the Upper East Side anyway – you'll likely hear from many that Ditch Plains is one of the best.
Ditch Plains is a popular choice for NYC Dining because the NY Restaurant combines style, simplicity, and great food. New York locals who want a cool, low-key destination for chowing down on oysters, seafood, and comfort fare dine at Ditch Plains.
Ditch Plains is a fish shack and oyster bar that pays tribute to Marc Murphy's first long board triumph in Montauk. It's one of many Restaurants in NY that offers an aquatic theme, but this NYC seafood hotspot strives to set itself apart by opting for high-design over bathing suit-friendly décor.
After all, this is NYC and style reigns supreme here. We love how a mellow place like Ditch Plains can still be chic. If you're looking for that perfect mix of relaxed and vibrant, dine at Ditch Plains. See how this NYC Restaurant surpasses other Restaurants in NY by living up to extraordinary culinary standards, while staying warm and accessible.
Ditch Plains features a brunch, all-day, and kids' menu – and it offers a delivery menu, which is ideal if you're visiting NYC and need lunch or dinner sent to you (check with Ditch Plains for delivery area). Marc Murphy's surf-themed NYC Restaurant is most popular for its lobster rolls and highly-desirable mac and cheese-topped hot dogs. Ditch Plains also serves up Cajun shrimp and grits, as well as artisanal beers and new wine vintages.
Enjoy a meal at Ditch Plains during your next visit to New York City. 
NYC
Visitor's Guide
Learn about all there is to do, see and experience in the world's greatest city!