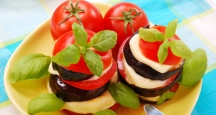 Dirt Candy | New York City Restaurants
Dirt Candy is a New York City Restaurant serving up vegetarian food that even a carnivore would crave.
Address:
86 Allen St, New York, NY 10002
Dirt Candy
Cuisine: Vegetarian
Price: $$$
Reservations: Taken
Neighborhood: East Village
Hours:
Tuesday through Saturday – 5:30 p.m. to 10:30 p.m.
If you're looking for a New York City Restaurant that serves amazing vegetarian fare, then head to Dirt Candy for an unforgettable NY Dining experience.
About Dirt Candy:
Dirt Candy is something of an institution among New York City Restaurants, having recently moved premises simply to make more room for the place's A-List clientele. Chef-owner Amanda Cohen told of the place getting to the point where all 18 seats were permanently filled by famous backsides, so the move was, in part, to make room for the masses.
As of now, Dirt Candy can be found at a much larger Allen Street location, though what hasn't changed is the NY Dining spot's attitude to vegetarian cuisine. Rather than serving up the same old-staples with the odd gimmick thrown in, the team specializes in taking fresh produce and serving it up in ways more creative and more delicious than you may have thought possible.
For vegetarian delights that go far above what you think you know about meat-free meals, Dirt Candy is the place to head. For one thing, don't expect to be fed shy or retiring low-calorie dishes as tend to fill the menus of some New York City Restaurants for vegetarians. At this casually upmarket joint, there's a good dose of cheese, gallons of high-quality olive oil and the kinds of mind-blowing desserts on the menu that remind you that not all vegetarian food is bland. 
Main dishes are served tapas-style (at least in size) which is perfect for getting a taste of a few different dishes. The Mapo Eggplant with Baby Bok Choi and Brussels Sprouts Tacos come very highly-recommended – as does the Korean Fried Broccoli is described as 'crack in broccoli form'.
It's the kind of place that could make even the most hardened meat-eater take a second-look at the veggie crowd…if only for one outstanding meal. 
NYC
Visitor's Guide
Learn about all there is to do, see and experience in the world's greatest city!