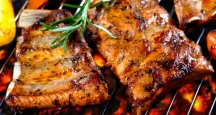 Dinosaur Bar-B-Que | Restaurants in New York City
Craving barbecue? Consider Dinosaur Bar-B-Que – a top Restaurant in New York City for this typically southern treat.
Address:
700 West 125th Street New York, NY 10027
Dinosaur Bar-B-Que
Cuisine: Barbecue
Price: $$
Reservations: Taken
Neighborhood: West Harlem
Hours:
Monday through Thursday – 11:30 a.m. to 11 p.m.
Friday and Saturday – 11:30 a.m. to midnight
Sunday – Noon to 10 p.m.
Craving barbecue during a visit to NYC? Head to Dinosaur Bar-B-Que – voted the best barbecue Restaurant in New York City.
About Dinosaur Bar-B-Que:
Now with two flagship Restaurants in New York City, Dinosaur Bar-B-Que is the place to head for the best 'Q' in town. It's the kind of place you visit once and find yourself coming back to time and time again for outstanding food in an awesome setting.
Unsurprisingly, big meat and even bigger flavors are the order of the day at this NY Dining spot, which has been having its way with huge slabs of the good stuff since 1983. Since then, these guys have made a name for themselves across the country, and they have picked up a ton of awards along the way. Dinosaur Bar-B-Que insists that fresh, homemade, and high-quality are more than just buzzwords – they are their founding principles.
Menu highlights come thick and fast, though you can't pay a visit to any of their Restaurants in New York City without sampling the world-famous pork ribs. For meat that just glides off of the bone and is covered with the most incredible homemade barbecue sauce, you'll find none better in NYC.
Diners also rave about the heavenly Mac n' Cheese, along with the outstanding Pulled Pork and the brand's own-recipe Barbecue Beans. You can wash it all down with 1 of the 20+ on-tap beers. It's the perfect recipe for an epic evening.
Bringing the little ones? There's a kids menu featuring BBQ Sliders, Crispy Chicken Fingers, an awesome Grilled Cheese, and more. It won't take you long to figure out why this Restaurant in New York City was voted the best BBQ in NYC.
In addition to the Harlem location, you can also visit their Brooklyn Restaurant at 604 Union Street Brooklyn, NY 11215.  
NYC
Visitor's Guide
Learn about all there is to do, see and experience in the world's greatest city!