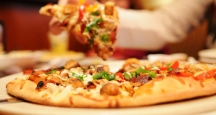 Di Fara | NYC Restaurants
Di Fara is 1 of the top NYC Restaurants for Pizza in New York.
Address:
1424 Ave J Brooklyn, NY 11230
Di Fara
Cuisine: Pizza
Price: $$
Reservations: No
Neighborhood: Midwood
Hours:
Wednesday through Sunday - 12:00 p.m. to 4:30 p.m. and 6:00 p.m. to- 9:00 p.m.
According to many locals, Di Fara boasts some of the best Pizza in New York. Stop by this NYC Restaurant during your next visit to the City.
About Di Fara:
Home to some of the best pizza joints in the world, New York has pie-on-demand for all tastes and budgets. When you want what many call the best pizza in the city, then you must be willing to wait in line at Di Fara.
This spot for Pizza in New York is located right in the heart of Brooklyn, and it's rare to walk Avenue J without seeing a mob of hungry diners lining up for a piece of the action. Once a humble local eatery and now 1 of the most well-known NYC Restaurants, Di Fara's offerings are always worth the wait.
A far cry from the usual deep-dish American classic, Di Fara serves up thin, crispy and expertly-topped pizzas in the Old Italian tradition. With a base of 4 kinds of flour, owner Domenico's secret sauce, and only the freshest ingredients, every pie served up is a unique work of culinary art.
Serious Eats gave the place the "Best Pizza in New York Acclaim" while celebrity chef Anthony Bourdain called their pizza "The Best of the Best". Di Fara has also been praised by the likes of the New York Times, Zagat and Frommers which credited the place with "The Best Handmade Pizza in New York City."
But even with such incredible acclaim, there's nothing pretentious about what's served up or what goes on behind the scenes. Di Fara is still a family-owned, family-run joint where good times and great eats are the orders of the day. And while some argue that the pizzas can be a little on the pricey side compared to other Pizza in New York, most who try this NYC Restaurant feel it's worth every penny.  
Try the simple combination of San Marzano tomatoes, Israeli basil, and two types of mozzarella for a taste of what Di Fara Pizza is all about, and be deliciously reminded why the Pizza in New York is some of the best in the world.
NYC
Visitor's Guide
Learn about all there is to do, see and experience in the world's greatest city!