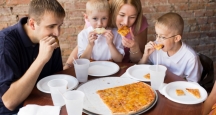 Denino's Pizzeria | New York Pizza Restaurants
Want to visit 1 of the best New York Pizza Restaurants? Stop by Denino's Pizzeria.
Address:
524 Port Richmond Avenue Staten Island, NY 10302
Denino's Pizzeria
Cuisine: Pizzeria
Neighborhood: Elm Park
Price: $$
Reservations: Not taken
Hours: 
Monday through Thursday, and Sunday – 11 a.m. to 11:30 p.m.
Saturday and Sunday – 11 a.m. to 10:30 p.m.
Deninio's Pizzeria is an example of why New York Pizza Restaurants are some of the best in the country.
About Denino's Pizzeria:
When you're exploring New York City, it may seem like there is a pizza restaurant on every block. New Yorkers love their pizza pie, so you're sure to find a great slice if you love this popular food too. One of the top New York Pizza Restaurants is Denino's Pizzeria on Staten Island. Denino's Pizzeria is a great place to grab lunch or dinner near an NY Hotel in Midtown Manhattan.
Denino's Pizzeria is a family-owned NY Pizza place that has been a New York City staple for decades – although it never intended to be a pizza hotspot. Carlo Denino – the original owner of Denino's who has since passed – opened what is now one of the top New York Pizza Restaurants almost 80 years ago. It wasn't until the 60's, however, that he added pizza to his menu without realizing the dish would be such a hit.
Today, Carlo's wife, daughter, and son run Denino's Pizzeria. Denino's has become a gathering space for many New York residents and visitors, as they enjoy meeting family and friends over an extraordinary slice of pie.
The Denino family has focused on its Staten Island location for 73 years, but it just expanded its reach into the town of Brick, New Jersey. While the New Jersey location will surely be successful, it's the NYC Restaurant that gets most of the notoriety right now.
When Denino's Pizzeria added to their menu in the 60's, they kept things fresh and simple – which helped the NYC eatery become a household name in Manhattan. Denino's enjoyable way of doing business has attracted customers who are mayors, borough presidents, politicians, actors – and most important, perhaps – NYC regular folk who come back time and time again for a good meal.
If you're looking for the best New York Pizza Restaurants, try Denino's Pizzeria near NY Hotels in Midtown Manhattan. 
NYC
Visitor's Guide
Learn about all there is to do, see and experience in the world's greatest city!