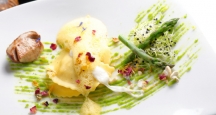 Del Posto | Top Italian Restaurants NYC
During a stay at a Hotel in NYC, you will have endless dining options. One top Italian Restaurant in NYC is Del Posto. Consider enjoying a meal there during your next visit to the City.
Address:
85 10th Avenue New York, NY 10011
Cuisine: Italian
Neighborhood: Highline Park
Price: $$$$
Reservations: Taken
Hours:
Monday through Friday – 11:30 a.m. to 11 p.m.
Saturday – 4:30 p.m. to 11 p.m.
Sunday – 4:30 p.m. to 10 p.m.
About Del Posto:
Del Posto is one of the most opulent New York City Restaurants you'll find and one of Manhattan's Top Italian Restaurants. NYC has so many great places for dining on authentic Italian fare, but you won't find any that are like Del Posto.
Del Posto is one of famed chef Mario Batali's most successful and phenomenal NYC Restaurants. It's an exquisite space for Fine Dining in NYC that features a plush, dark-but-glowing dining room - a most-elegant setting for lunch or dinner.
Some say that that to enjoy Fine Dining in NYC is to dine at Del Posto. Others will tell you that among the Top Italian Restaurants, NYC's Del Posto is the one that should be experienced if you can only choose a single Italian eatery.
Del Posto sits in Manhattan's Highline Park neighborhood, just moments from a Hotel in NYC's theater District or a Central Park Hotel. Del Posto offers one of the most beautiful NYC Restaurant interiors you'll find, complete with towering columns and tall curtained windows – just like you'd see in the lobby of a grand, Roosevelt-era building.
The menu at Del Posto features many $60 dishes, such as lobster risotto for 2 and signature Batali favorites like bollito misto. There is also a variety of rustic Italian plates, which are prepared tableside during an elaborate ceremony.
One of the local-approved Top Italian Restaurants, NYC's Del Posto should be placed high atop any list of places for Fine Dining in NYC. The food served at Del Posto is on par with some of the best French cuisine we've seen - and the atmosphere is pure romance. Enjoy a meal at Del Posto and delight in outstanding dishes served with a welcome helping of tinkling piano music in the background.
For a Hotel in NYC that is close to Del Posto - and near many other Top Italian Restaurants - NYC Hotels in the Theater District or near Central Park make outstanding choices.
NYC
Visitor's Guide
Learn about all there is to do, see and experience in the world's greatest city!