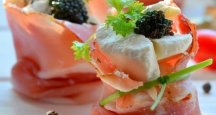 Degustation | Top NYC Restaurants
Degustation is a top NYC Restaurant. After enjoying a meal at this dining spot, you'll understand why exploring the food scene is such a popular Thing to do in NY.
Address:
239 East 5th Street New York, NY 10003
Cuisine: Iberian, American, French
Neighborhood: East Village
Price: $$$$
Reservations: Taken
Hours:
Monday through Saturday – 6 p.m. to 11:30 p.m.
Sunday – 6 p.m. to 10 p.m.
About Degustation:
If you're looking for Things to in NY, consider exploring the City's food scene. Degustation is one of the Top NYC Restaurants because it offers a delightful fusion of cuisines. This NYC eatery presents a provocative menu of American, Iberian, and French-inspired food in an intimate, yet dynamic setting.
Dine at Degustation and enjoy a delightful meal in a lovely bar setting – one that revolves around an exciting open kitchen. Degustation serves the exquisite fare of Chef Nicholas Licata – a chef who turns out exciting dishes that pair perfectly with Degustation's hand-selected wine offerings.
Dinner at Degustation is honest and straightforward, but it's also creative and unlike anything you'll see in NYC. Many NYC diners start their meal at Degustation by ordering scrumptious appetizers like warm bread, Brussels sprouts with cashew, tomato with cauliflower and nasturtium, or a small plate of carrot with bee pollen.
For the main course, patrons choose individual entrees or they opt for a 7-course Chef's Tasting Menu – which requires the participation of one's entire party. Desserts are phenomenal at Degustation, so consider saving some room and ending your supper with a delectable scoop of chocolate sorbet mixed with coffee soil and cocoa nibs.
For a lovely ending to meal at Degustation, enjoy coffee service or a house cocktail - like a sparkling apple with orange and cava.
If you're looking for Top Restaurants in NYC – ones that are upscale and absolutely divine – consider Degustation. Degustation sits in the heart of the East Village, just moments from an NYC Accommodation in the Broadway Theater District or any Midtown Manhattan Hotel.
NYC
Visitor's Guide
Learn about all there is to do, see and experience in the world's greatest city!