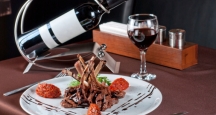 Daniel | Top Dining in NYC
Looking for a spot for Top Dining in NYC? Add Daniel to your list of can't-miss New York Restaurants.
Address:
60 East 65th Street New York, NY 10065
Cuisine: French
Neighborhood: Upper East Side
Price: $$$$
Reservations: Taken
Hours:
Monday through Sunday – 5:30 p.m. to 11 p.m.
Bar: Monday through Saturday – 5:30 p.m. to 11:30 p.m.
About Daniel:
NYC tourists looking for Top Dining in NYC often turn to New York residents for recommendations. If you ask any local what the best French Restaurant in NYC is, they'll almost certainly mention Daniel.
Some consider Daniel on the Upper East Side the ultimate NYC Dining experience. Daniel is among the Top Restaurants in NYC – French or otherwise – as it offers so much for the senses: an elegant ambiance, gracious services, and delectable menu items.
Daniel is one of many famous NYC Restaurants owned by Chef Daniel Boulud. This upscale New York eatery is an award-winner and place for Top Dining in NYC that's been acclaimed by Relais & Chateaux members – and by many NYC Dining critics.
This New York Restaurant serves contemporary French cuisine that is inspired by the seasons. It also offers world-class wines as a perfect accompaniment.
Sit down to dinner at Daniel and enjoy a meal in a distinctive setting – one that boasts many modern luxuries and finishes. Daniel's grand, neoclassical-style interior is warm and welcoming. This NYC Restaurant makes an ideal destination for private dining or for NYC Events.
In addition to Top Dining in NYC, Daniel serves handcrafted drinks in its Bar & Lounge. This gorgeous space is wonderful for socializing and sipping creative cocktails.
Whether you choose a spot in Daniel's dining room or in the Lounge, you'll be able to enjoy sumptuous a la carte items and decadent late-night desserts.
If you're looking for places for a top New York Restaurant, make Daniel – a 3-Star Michelin Restaurant in NYC – one of the New York Restaurants that you spend an evening at.
NYC
Visitor's Guide
Learn about all there is to do, see and experience in the world's greatest city!