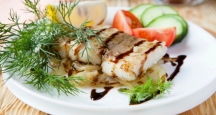 Craft | Top Restaurants in NYC
Craft is a top Restaurant in NYC, and is a perfect choice when you want to enjoy an evening of Fine NY Dining.
Address:
43 East 19th Street New York, NY 10003
Cuisine: American
Neighborhood: Gramercy
Price: $$$
Reservations: Taken
Hours:
Sunday through Thursday – 5:30 p.m. to 10 p.m.
Friday and Saturday – 5:30 p.m. to 11 p.m.
About Craft:
What makes a restaurant one of the Top Restaurants in NYC? Typically, becoming the best takes a certain talent for preparing outstanding food, years of experience from the restaurant's ownership, and a passion for the craft of cooking. Craft in Gramercy brings all of these factors together to offer New York locals and visitors one of the most well-crafted and put-together fine NY Dining experiences.
Craft is an exquisite space for enjoying elegant dinners. This NYC Restaurant turns out some of the most innovative and extraordinary dishes you'll find in Manhattan. They master their cuisine with a certain sense of arrogance – one that's necessary when you're competing with other Top Restaurants in NYC.
Dine at Craft and enjoy an expertly-created meal that stems from sheer genius – and decades of acquired knowledge. Spend an evening at Craft and luxuriate in a plush, high-end American Restaurant that quickly has quickly become one of the Top Restaurants in NYC (Craft was considered a hotspot almost immediately after opening in 2001).
Craft brings honest fare to New Yorkers and NYC tourists. At Craft, you won't find dishes that hide behind artifices. Everything is delivered in a straightforward manner, with top-quality ingredients shining like bright stars in a city that sees many wannabes.
Enjoy dinner at Craft and you'll know what culinary perfection is. Only the best of local, seasonal produce is used for the restaurant's edible masterpieces. Farm-fresh heirloom tomatoes are chosen above ordinary varieties and chanterelle mushrooms are cooked precisely to the right temperature, so that their consistency and texture is flawless. Dine at Craft and experience the best in food preparation and presentation. Witness how fare so simple and truthful can taste better than you ever imagined.
Craft received 3 stars by William Grimes of The New York Times soon after it opened. Grimes specifically noted the "mastery handling" of the ingredients by Craft's staff.
If you're looking for a New York Hotel that is close to Top Restaurants in NYC like Craft, choose a Central Park Hotel, a Times Square Hotel, or an New York Hotel in the Broadway Theater District.
NYC
Visitor's Guide
Learn about all there is to do, see and experience in the world's greatest city!