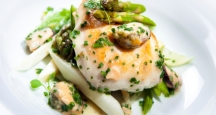 Café Boulud | NYC Dining
Café Boulud offers a find NYC Dining experience. This New York City Restaurant boasts fabulous French cuisine and the promise of a very memorable meal.
Address:
20 East 76th Street New York, NY 10021
Cuisine: French
Neighborhood: Upper East Side
Price: $$$$
Reservations: Taken
Hours:
Monday through Thursday – 7 a.m. to 10 a.m. and 5:45 p.m. to 10:30 p.m.
Saturday – 7 a.m. to 10 a.m. and 5:45 p.m. to 11 p.m.
Sunday – 8 a.m. to 11 a.m., 12 p.m. to 3 p.m., and 5:30 p.m. to 11 p.m.
About Café Boulud:
An Upper East Side staple, Café Boulud offers a menu inspired by Daniel Boulud's 4 culinary muses: La saison (seasonal delicacies), la tradition (classic French cuisine), le voyage (flavors of world cuisines), and le potager (the vegetable garden). Hotel is a go-to destination for NYC Dining for locals as well as for NYC tourists who are looking for best in French Restaurants.
Café Boulud has earned 1 Michelin Star and has received 3 coveted Stars from The New York Times. This top spot for NYC Dining is a neighborhood gem – a favorite for those looking for an elegant evening out in NYC.
At Café Boulud – A New York City Restaurant, enjoy a spectacular regular menu as well as seasonal wine-tasting dinners. Sit down to brunch at Café Boulud and enjoy one of the top Things to do in NYC – an NY Activity that is local approved and recommended.
Café Boulud offers an outstanding space for NYC Dining for romantic dinners, social gatherings, and private Events in NYC. At Café Boulud, dine on prix fixe meals on select days or opt to dine on other days when you can choose from a full menu of dishes.
Café Boulud is a fantastic place for breakfast, lunch, dinner, or just coffee and dessert. If you're dining at Café Boulud for dinner, you may want to visit Bar Pleiades beforehand - or for after-dinner drinks. Bar Pleiades is Café Boulud's chic Upper East Side bar – a lively watering hole that is named for the beloved French Restaurant frequented by Manhattan's art-world elite in the 70's and 80's.
Café Boulud sits moments from a Hotel in NYC's Theater District or even a Central Park Hotel. If you need a Hotel in NYC for your visit to Manhattan, consider one of these locations for your NY Accommodations. Then, you'll be close to top New York City Restaurants and the best Things to do in NYC.
NYC
Visitor's Guide
Learn about all there is to do, see and experience in the world's greatest city!