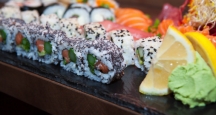 Brushstroke | Japanese Restaurants NYC
Brushstroke is a Japanese Restaurant in NYC. Located in TriBeCa, this NY Restaurant is a wonderful choice for fine NY Dining. Japanese Restaurants NYC | Brushstroke
Address:
30 Hudson Street New York, NY 10013
Cuisine: Japanese
Neighborhood: TriBeCa
Price: $$$$
Reservations: Taken
Hours:
Monday through Saturday – 5:30 p.m. to 11:30 p.m.
Sunday - closed
About Brushstroke:
Brushstroke is David Bouley's contribution to New York City Japanese Restaurants. NYC has many fine offerings for Japanese cuisine, all of which are moments from a centrally-located NY Accommodation in the Theater District or near Central Park. Brushstroke, however, is an ultra-elegant Japanese eatery that demonstrates the same commitment to extraordinary NYC Dining that you'll find at other Bouley Restaurants in NYC.
David Bouley holds a special place among great NYC cooks. He's worked with – and trained – some of the outstanding chefs who made NYC their playground during the 90's. While highly-regarded chefs like Jean-Georges, Batali, and Daniel Boulud, have sometimes strayed from their roots, Bouley has held a constant dedication to churning out great NY Restaurants focusing on the basics and not trends.
Visit Brushstroke and dine at one of the top New York City Japanese Restaurants – NYC's beloved gem in the TriBeCa neighborhood that is just steps from other outstanding eateries from Bouley. Brushstroke is Bouley's latest vision in high-end Manhattan cuisine. This NYC Restaurant opened up just a few years ago in a ground-floor space on Hudson Street - a location that was home to Bouley's now-closed French brasserie, Succession.
The storied space on Hudson Street has been renovated once again to house Brushstroke. For Brushstroke, Bouley teamed with a Japanese partner Yoshiki Tsuji (head of the Tsuji Culinary Institute in Osaka) to open a sparse, woodsy-style NYC Japanese Restaurant that is similar in appearance to a Shinto shrine.
Instead of curtains, windows at Brushstroke are inlaid with rice paper - which offers a bit of light into a main dining room that's been fitted with blonde wood planks and a long, wrap-around dining counter.
For an exquisite experience in Japanese Dining in NYC – and for some of the most incredible Japanese you'll eat anywhere – sit down to a meal at this popular NY Restaurant.
NYC
Visitor's Guide
Learn about all there is to do, see and experience in the world's greatest city!