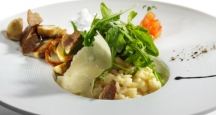 Bouley | NYC French Restaurants
Bouley is an NYC French Restaurant located in the TriBeCa neighborhood. Want to enjoy a fine NYC Dining experience? Consider this popular New York Restaurant.
Address:
163 Duane Street New York, NY 10013
Cuisine: French
Neighborhood: TriBeCa
Price: $$$$
Reservations: Taken
Hours:
Monday through Thursday – 11:30 a.m. to 2:30 p.m. and 5:30 p.m. to 10:30 p.m.
Friday and Saturday – 11:30 a.m. to 2:30 p.m. and 5 p.m. to 11 p.m.
Sunday - closed
About Bouley:
David Bouley has his hands full on NYC's Restaurant scene. This top New York restaurateur bounces between his kitchen at Bouley in TriBeCa, a Fine NYC Dining spot, and his other NYC eateries, getting the job done as he serves his loyal following of NYC diners. At Bouley – just like at David's other top NYC Restaurants – you'll find a wonderful selection of complicated seasonal dishes that are some of the best in Manhattan. If you're looking for top NYC French Restaurants, try Bouley.
Bouley's approach to preparing French cuisine is as authentic as can be found anywhere. Dishes at Bouley offer a purity and integrity that you don't see at every NYC Restaurant – or even at Restaurants in France. When you dine at Bouley, you'll quickly notice that meals are crafted specifically to please patrons, not to showcase any culinary trend that's currently occurring.
For one of the top NYC French Restaurants, consider Bouley. Bouley utilizes small amounts of unique, local ingredients to create special dishes that provide a personal dining experience for each customer. Menu items at Bouley change with the seasons, which makes for a new NYC Dining experience almost every time.
During the summer, you might find delicacies like heirloom tomatoes on your plate, while in autumn, delights like white truffles are showcased. Winter brings exotic fruits to Bouley's dishes, and spring highlights foods like rare wild ramps.
Throughout the year, Bouley is consistently one of the most popular and exciting NYC French Restaurants. The continual dialogue between chef and guest ensures satisfaction – and a joyful experience – at Bouley.
Are you looking for NYC Hotels that are close to the top NYC Restaurants – like the best NYC French Restaurants? Stay at one of the Central Park Hotels - or Hotels in NYC's Broadway Theater District - and you'll be near them all.
Central Park Hotels are ideal because they are also moments from so many top NYC Things to Do, such as visiting NY Museums and exploring gorgeous Central Park.
NYC
Visitor's Guide
Learn about all there is to do, see and experience in the world's greatest city!