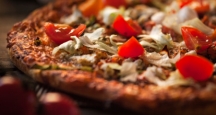 Bocelli Restaurant | Italian Restaurants NYC
Bocelli is a reasonably-priced Italian Restaurant. NYC locals and visitors alike love this popular dining spot.
Address:
1250 Hylan Boulevard Staten Island, NY 10305
Cuisine: Italian
Neighborhood: Staten Island
Price: $$
Reservations: Not taken
Hours:
Monday through Friday – 12 p.m. to 10 p.m.
Saturday – 1 p.m. to 11 p.m.
Sunday – 1 p.m. to 9 p.m.
About Bocelli Restaurant:
Bocelli Restaurant – NYC's popular option for dining on Staten Island – raises the bar for enjoying a culinary experience in NYC. This top Italian eatery offers great service, an elegant atmosphere, and outstanding food – the perfect combination of ingredients for a meal to remember.
Bocelli Restaurant serves lunch, dinner, and brunch on the weekends. If you're looking for casual, Old World-style Italian Restaurants, NYC's Bocelli Restaurant is a perfect choice. At Bocelli Restaurant, you'll enjoy dishes that are prepared with a commitment to excellence and a passion for keeping things authentic.
The flavor and presentation of each entrée at Bocelli Restaurant is absolutely impeccable. New York City residents and New York visitors come back to this Italian Restaurant in NYC time and time again, and they continuously praise the food and the atmosphere.
Bocelli Restaurant's warm hospitality makes for a most enjoyable experience Dining in NYC, as does the restaurant's lovely Tuscan décor and tasty daily specials. Because so many locals and tourists dine at Bocelli's, you may find it helpful to make a reservation before you visit (weekend dining absolutely requires a reservation).
You'll notice that meals at Bocelli Restaurant follow typical Manhattan pricing, but you'll surely find value in your plate. All menu items are generous in portion size - and they're quite delicious. A lunch or dinner at Bocelli Restaurant makes for a great pre-theater occasion or even a nice night of celebration for a special Event in NYC.
One thing that many people find fabulous about dining at this Italian Restaurant in NYC is that Bocelli's is close to many Things to do in NYC. Consider making an afternoon or evening out of eating at Bocelli Restaurant by visiting an NYC Museum afterward – or by taking an exciting ferry ride before you dine.
NYC
Visitor's Guide
Learn about all there is to do, see and experience in the world's greatest city!