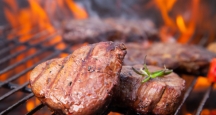 Blue Smoke | NYC Barbeque
BBQ Restaurant in New York might not be the first thing that comes to mind when you think of NY Dining, but Blue Smoke is an NYC Barbeque spot that will change your mind about that!
Address:
116 East 27th Street New York, NY 10016
Cuisine: BBQ
Neighborhood: Gramercy
Price: $$$
Reservations: Taken
Hours:
Sunday and Monday – 11:30 a.m. to 10 p.m.
Tuesday through Thursday – 11:30 a.m. to 11 p.m.
Friday and Saturday – 11:30 a.m. to 12 a.m.
About Blue Smoke:
Blue Smoke has a few detractors, but it still manages to be one of the top spots fr NYC Barbeque near Times Square Hotels and Central Park Hotels. Blue Smoke fires up Missouri-made smokers daily to prepare meat and fish, which many diners fill up on before delving into the NYC Restaurant's selection of desserts.
Blue Smoke is widely credited as being the founder of the NYC Barbeque movement. This NYC eatery celebrates the cuisine of the evolving American South while staying true to the region's culinary traditions.
Blue Smoke is a Restaurant in New York that serves lunch and dinner Monday through Sunday. The NYC Barbeque restaurant's offerings include a standard selection of barbeque items – as well as some sides like Watermelon Salad with smoked pecans and Upland cress, Warm Barbeque Potato Chips, and East Coast Oysters on the half shell.
For those who don't eat meat, there are a few options available at Blue Smoke like Grilled Vegetable Kabobs and French Fries. You'll find that many families dine at Blue Smoke, as the NYC Barbeque place has a menu created especially for kids. Adults have a few items geared toward them too at Blue Smoke, such as mocha cappuccinos.
Blue Smoke's sky-lit interior features red vinyl booths for dining and low-key décor throughout. There is a jazz club downstairs from Blue Smoke that is typically pretty busy, so if you come to this NYC Barbeque place without children, you may want to check out the NYC nightlife in the club.
Whether you dine at Blue Smoke, another NYC Barbeque Restaurant, or a different popular Restaurant in NYC, it's best if you stay in a centrally-located NYC Hotel like a Times Square Hotel or a Central Park Hotel. That way, you'll be moments from it all.
NYC
Visitor's Guide
Learn about all there is to do, see and experience in the world's greatest city!