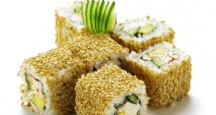 Blue Ribbon Sushi | NYC Restaurants
Blue Ribbon Sushi is a popular NYC Restaurant located in SoHo. Craving sushi? Stop by this New York Restaurant.
Address:
119 Sullivan Street New York, NY 10012
Cuisine: Japanese
Neighborhood: SoHo
Price: $$$
Reservations: Taken
Hours: Monday through Sunday – 12 p.m. to 2 a.m.
About Blue Ribbon Sushi:
Looking for a great sushi Restaurant? NYC is filled with them, but one of the best according to locals is Blue Ribbon Sushi in SoHo. Blue Ribbon Sushi is a small, romantic, and dimly-lit NYC Sushi Restaurant that offers one of the largest sushi smorgasbords in Manhattan. This popular New York Restaurant for sushi and Japanese food sits moments from any Times Square Hotel - or even a Central Park Hotel.
Blue Ribbon Sushi has fed New Yorkers and NYC visitors for nearly a decade. The place is always jam packed with diners who are looking for a coveted chair at the sushi bar. If you dine at Blue Ribbon Sushi, be prepared for a bit of a wait to get one of these top seats – or make reservations for a wooden booth.
At Blue Ribbon Sushi, you'll find many outstanding sushi offerings behind glass – which are available for you to choose as you like. The row of sushi staff standing at attention nearby is always ready to accommodate your every sushi need, so let them know how they can help you put together the best meal.
Blue Ribbon Sushi is a perennially-busy New York Restaurant. NYC Diners who eat at this establishment learn to expect that the atmosphere may be fast paced and high energy at times. But, the NYC Restaurant is still intimate enough for a date night or even for a small gathering of friends.
The food at Blue Ribbon Sushi is divine. Many patrons start with the miso soup – which is served with wasabi paste on the side. Then, they delve into Blue Ribbon Sushi's long list of appetizers. If you've come to Blue Ribbon Sushi just for the sushi, you may be pleased to know that there are many vegetarian selections available.
Visit Blue Ribbon Sushi for outstanding offerings that are authentically Japanese and ever-so-tasty. Find this NYC Restaurant close to any Times Square Hotel, Central Park Hotel, or NYC Hotel in the Broadway Theater District.
NYC
Visitor's Guide
Learn about all there is to do, see and experience in the world's greatest city!