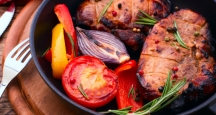 Blue Hill | Restaurant in New York City
When you want to enjoy fine NY Dining, consider Blue Hill. This Restaurant in New York, located in Greenwich Village, serves American cuisine.
Address:
75 Washington Place New York, NY 10011
Cuisine: American
Neighborhood: Greenwich Village
Price: $$$$
Reservations: Taken
Hours: Monday through Sunday – 5 p.m. to 11 p.m.
About Blue Hill:
Blue Hill in Greenwich Village opened in 2000. Hidden 3 steps below street level, this Restaurant in New York City occupies a former landmark speakeasy just off of Washington Square Park.
Blue Hill offers a menu filled with dishes that are prepared with local ingredients - food sourced from nearby farms like Blue Hill Farm in Great Barrington, Massachusetts and Stone Barns Center for Food and Agriculture – which is a 45 minute drive from NYC.
Blue Hill's wine list consists of vintages made by producers who take an artisanal approach to winemaking. The exquisite NYC Dining environment at Blue Hill is one of the most enjoyable spots for fine NY Dining.
If you're looking for an NYC Hotel that is close to top Restaurants in New York City – like Blue Hill and others – choose a centrally-located New York Hotel like a Central Park Hotel or an NY Hotel in the Broadway Theater District.
Any of these NYC Hotels will be moments from Blue Hill. Blue Hill is one of the go-to Restaurants in New York City for those who want hearty, seasonally-inspired fare and a fine NY Dining experience. It features a particular culinary selection that is quite popular with New Yorkers and NYC visitors – the "Farmers' Feast" - which is a 5-course tasting menu created from the week's harvest.
Blue Hill excels at creating elegant, slow food. The NY Restaurant's kitchen, which is run by Dan Barber, gets most of its produce from Stone Barns – a biodynamic farm and restaurant that Barber and his brother run at an old Rockefeller complex Upstate.
Blue Hill is truly one of the most special Restaurants in New York City. It's perfect for a nice night out with family or friends - and it's ideal for a romantic, intimate dinner.
NYC
Visitor's Guide
Learn about all there is to do, see and experience in the world's greatest city!