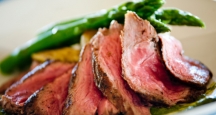 BLT Steak | New York Steakhouses
BLT Steak is a popular NYC Restaurant located in Midtown East. When you're looking for one of the best New York Steakhouses, BLT Steak is a great choice.
Address:
106 East 57th Street New York, NY 10022
Cuisine: Steakhouse
Neighborhood: Midtown East
Price: $$$$
Reservations: Taken
Hours:
Monday through Thursday – 11:45 a.m. to 2:30 p.m. and 5:30 p.m. to 11 p.m.
Friday – 11:45 a.m. to 2:30 p.m. and 5:30 p.m. go 11:30 p.m.
Saturday – 5:30 p.m. to 11:30 p.m.
Sunday – 5 p.m. to 10 p.m.
About BLT Steak:
BLT Steak is one of the most popular New York Steakhouses. It offers a large selection of meat, which most diners appreciate, and it serves a few other dishes that non-meat eaters can enjoy.
The huge portions of steak available at BLT Steak widely range in price, shape, and size. Some diners opt for an enormous porterhouse for 2 (40 ounces for $94) and others prefer the thinly-sliced flatiron cuts of beef. BLT Steak also offers a tough cut of hanger steak, a filet mignon, and a classic 16-ounce New York Strip.
If you're looking for NYC Hotels that are close to the top NYC Restaurants, consider staying in a Midtown Manhattan Hotel, a Central Park Hotel, or a Hotel in Times Square. These NYC Hotels are near BLT Steak and other popular New York Steakhouses, and they're minutes from other NYC Dining options in case you want vegetarian or vegan fare.
Non-meat eaters dining at BLT Steak can dine on menu items like Caesar salad, a roasted beet appetizer, French fries, onion rings, and Hen of the Woods mushrooms. There are also some desserts to choose from like apple cobbler, sliced fruit and berries, and sorbet. BLT Steak features an extensive cocktail list, and it pours beer and wine by the glass.
For NYC Accommodations that are close to many options for NYC Dining, choose one of the NYC Hotels near the Broadway Theater District, in Times Square, or close to Central Park. You'll have a variety of great choices for NYC Dining nearby in addition to New York Steakhouses.
NYC
Visitor's Guide
Learn about all there is to do, see and experience in the world's greatest city!