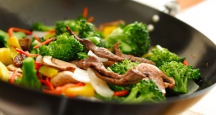 Big Wong | Chinese Restaurant in NYC
Big Wong is a popular Chinese Restaurant in NYC. Craving Chinese food during your visit to the City? Stop by this NY Restaurant in Chinatown.
Address:
67 Mott Street New York, NY 10013
Cuisine: Chinese
Neighborhood: Chinatown
Price: $
Reservations: Not taken
Hours:
Monday through Sunday – 8 a.m. to 9:30 p.m.
About Big Wong:
There are so many choices for a Chinese Restaurant in NYC; it can often seem challenging to choose a place to dine at. If you're looking for a Chinese Restaurant in NYC that offers amazing cuisine in an unassuming environment (which translates to great food for cheap), dine at Big Wong – An NY Restaurant in Chinatown.
Big Wong is a top Chinese NY Restaurant, despite the fact that its furnishings are quite average and there is not much about the space that New York Diners talk about. They do, however, appreciate Big Wong's outstanding menu items - and they love the portions at Big Wong that offer so much value for your dining dollar.
At Big Wong, enjoy an exhaustive and dizzying selection of entrees and side items that have gained this Chinese Restaurant in NYC a loyal following. Locals and NYC visitors flock to Big Wong for food that is hearty and flavorful, and for an environment that is friendly and welcoming.
Big Wong has fed NYC diners for nearly 30 years, offering them delectable dishes like steamed rice crepes, noodles (chow main, chow fun, pan-fried, and silver needle), and lo mein prepared in the steamed, Hong Kong style.
Vegetables served at Big Wong - like Chinese broccoli - have a rich, deep color and are cooked fresh each day. In nearly every menu item, there is a level of quality and attention to detail that's unlike what you'll find at other inexpensive Chinese Restaurants in NYC.
The kitchen at Big Wong turns out plates at break-neck speed – which is a big plus when you're crunched for time and wanting to get to some NYC Attractions or NYC Activities right away. Shortly after placing your order at Big Wong, you'll see your food start landing on your table.
If you're looking for a local-approved Chinese Restaurant in NYC, try Big Wong.
NYC
Visitor's Guide
Learn about all there is to do, see and experience in the world's greatest city!