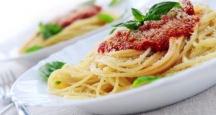 Bianca | Where to Dine in New York
Bianca is an Italian Restaurant located in SoHo. Wondering Where to Dine in New York? Give this reasonably-priced option a try.
Address:
5 Bleecker Street New York, NY 10012
Cuisine: Italian
Neighborhood: SoHo
Price: $$
Reservations: Not taken
Hours:
Monday through Thursday – 5 p.m. to 11 p.m.
Friday and Saturday – 5 p.m. to 12 a.m.
Sunday – 5 p.m. to 10:30 p.m.
About Bianca:
The restaurant team that charmed the Upper West Side with Celeste brought Bianca to New York City. Bianca is one of the smaller NYC Restaurants, but it's a top choice for those wondering "Where to Dine in New York for Italian?"
Bianca channels the spirit of Romanese grandmothers, turning out exquisite dish after exquisite dish – plates that are warm and comforting. At Bianca, enjoy wonderful presentations of chewy noodles called gramigna (which are studded with sweet pepper) as well as other delightful entrees that are tops among Italian dishes in New York City.
If you dine at Bianca, remember to bring cash, as this New York eatery doesn't take credit cards. They also don't take reservations, so just show up for dinner and prepare for a laid back, casual, and enjoyable experience in NYC Dining.
In addition to outstanding cuisine at Bianca, enjoy an appealing, all-Italian wine list that draws patrons from all over New York City. New York locals – and visitors in the know – head to Bianca to linger and to savor the most decadent of flavors in Italian cooking and drink
Are you looking for NY Hotels that are close to top Restaurants in New York? Choose a Central Park Hotel, a Times Square Hotel, or one of the NY Hotels the Broadway Theater District and you'll have many options for "Where to Dine in New York?" nearby.
NYC
Visitor's Guide
Learn about all there is to do, see and experience in the world's greatest city!