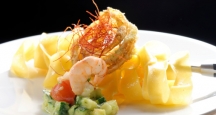 Babbo | Dining in NYC
Babbo is an Italian NYC Restaurant that offers the chance to enjoy fine Dining in NYC.
Address:
110 Waverly Place New York, NY 10011
Cuisine: Italian
Neighborhood: Greenwich Village
Price: $$$$
Reservations: Taken
Hours:
Monday – 5 p.m. to 11:30 p.m.
Tuesday through Saturday – 11:30 a.m. to 11:30 p.m.
Sunday – 4:30 p.m. to 11 p.m.
About Babbo:
Babbo is an NYC Restaurant owned by Mario Batali and Joseph Bastianich. The New York eatery opened in June of 1998 and it has consistently been an exuberant representation of Dining in NYC. Babbo celebrates the best of Italian cuisine, wine, and lifestyle. It is a top NYC Restaurant with NYC locals and visitors, and it continuously receives glowing reviews and acclaim from critics.
Within a short time of the NYC Restaurant's opening, Ruth Reichl of The New York Times gave Babbo 3 stars. The James Beard Foundation honored the NYC Restaurant by bestowing the Best New Restaurant Award upon it - in 1998.
Babbo offers a menu that is a roster of Chef Mario Batali's most robust creations. Dishes at Babbo incorporate the best and freshest of seasonal produce, and they include many surprises that always delight.
Are you looking for a top NYC Restaurant for Fine Dining in NYC? Consider Babbo in Greenwich Village. Babbo's wine list showcases one of the most intelligent and extensive collections of wine in New York City – and in the country.
For your dining pleasure, Babbo features a split-level dining room that seats up to 90 patrons comfortably - with options for table or bar seating (wine and full meals are available for all seating options).
Are you looking for places for Dining in NYC for social occasions – or for a romantic dinner in NYC? Choose Babbo, an NYC Restaurant that is a great choice among the many NYC Restaurants if you want an afternoon or evening of great Italian hospitality - and quality cuisine.
During your next visit to the City, enjoy Fine Dining in NYC at Babbo. 
NYC
Visitor's Guide
Learn about all there is to do, see and experience in the world's greatest city!