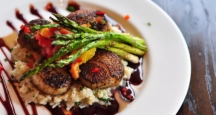 Aureole | Fine Dining in NYC
Located in the Theatre District, Aureole is a popular NYC Restaurant. Consider Aureole when you want to enjoy Fine Dining in NYC.
Address:
135 West 42nd Street New York, NY 10036
Cuisine: American
Neighborhood: Theatre District
Price: $$$$
Reservations: Taken
Hours:
Monday through Thursday – 12 p.m. to 2 p.m. and 5 p.m. to 10 p.m.
Friday – 12 p.m. to 2 p.m. and 5 p.m. to 11 p.m.
Saturday – 5 p.m. to 11 p.m.
Sunday – 5 p.m. to 10 p.m.
About Aureole:
Restaurateur Charlie Palmer's unabashed flagship Aureole is a top destination for Fine Dining in NYC. This exquisite New York City Restaurant offers a signature, progressive American style of cuisine that is unlike what you'll find at most NYC Restaurants.
Aureole is elegant and refined. It serves masterfully-created dishes prepared by Executive Chef Marcus Gleadow-Ware, a chef who trained in the classics at London's world-renowned Savoy Hotel.
Since day one, Aureole has been a popular place for Fine Dining in NYC for those who love simple, elegant plates infused with sharp, focused flavors. At Aureole, enjoy a luxurious experience Dining in NYC that is perfect for pre-theater meals or for a special occasion in New York City.
Are you entertaining clients in NYC? Bring them to Aureole and enjoy Fine Dining in NYC that is sure to impress. Aureole sits in the heart of the Broadway Theater District, steps from a Central Park Hotel or an NYC Hotel near the Broadway Theaters.
This fabulous NYC Restaurant offers delightful meals created from exciting ingredients, like taro root, ponzu, lavash crackers, and crispy shiitake mushrooms. It serves outstanding prix fixe plates for lunch and elaborate multi-course dinners.
For Fine Dining in NYC, consider Aureole. Sit down to eat in the NYC Restaurant's smart and casual Liberty Room, the intimate Dining Room, or the Halo Private Dining Room (which can be reserved on a space-available basis).
NYC
Visitor's Guide
Learn about all there is to do, see and experience in the world's greatest city!