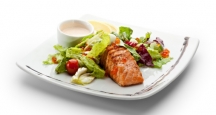 Aquagrill | Where to Dine in NYC
Aquagrill is a popular Seafood Restaurant in NYC. When you're wondering Where to Dine in NYC, consider this popular SoHo Restaurant.
Address:
210 Spring Street New York, NY 10012
Cuisine: Seafood
Neighborhood: SoHo
Price: $$$
Reservations: Taken
Hours:
Monday through Thursday – 12 p.m. to 3 p.m. and 6 p.m. to 11 p.m.
Friday – 12 p.m. to 3 p.m. and 6 p.m. to 12 a.m.
Saturday – 12 p.m. to 4 p.m. and 6 p.m. to 12 p.m.
Sunday – 12 p.m. to 4 p.m. and 6 p.m. to 10:30 p.m.
About Aquagrill:
Aquagrill is a top answer for many diners who are wondering Where to Dine in NYC. This Seafood Restaurant in NYC serves a large seafood menu, but it offers many other dishes that are sure to please most palates and dietary preferences.
Aquagrill opened in 1996 and it has presented a popular combination of great food and fine wine since day one. Jennifer and Jeremy Marshall are the proprietors of Aquagrill, an NYC Restaurant that is a go-to spot for many New Yorkers looking for great dining in SoHo.
Aquagrill is a Seafood Restaurant in NYC that commits itself to preparing cuisine that uses the freshest of ingredients, which makes the eatery continuously one of the top-rated NYC Restaurants.
If you're wondering "Where to Dine in NYC?" consider Aquagrill. Many locals love Aquagrill, as it has a loyal following among diners looking for gluten-free and vegetarian options.
Aquagrill in NYC provides daily house specials and it offers an oyster selection that is one of the best in New York City. This NYC hotspot has been feeding NYC residents and visitors for 17 years, giving choices for those who love salads, steamed vegetable places, healthy entrees, and even home-style comfort foods like French fries and mashed potatoes.
At Aquagrill, choose from a la carte plates, hearty meals, and even brunch offerings on weekends. Enjoy dishes made from locally-sourced produce and follow them up with specialty cocktails – like handcrafted sakes.
Whenever you're wondering Where to Dine in NYC for a luscious meal, think about trying Aquagrill in SoHo.
NYC
Visitor's Guide
Learn about all there is to do, see and experience in the world's greatest city!