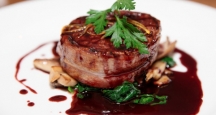 Annisa | New York City Restaurants
When you want to enjoy Fine Dining in NYC, consider Annisa. This New York Retaurant is located in the West Village and serves up amazing Contemporary American cuisine.
Address:
13 Barrow Street New York, NY 10014
Cuisine: Contemporary American
Neighborhood: West Village
Price: $$$$
Reservations: Taken
Hours:
Monday through Saturday – 5:30 p.m. to 10:30 p.m.
Sunday – 5:30 p.m. to 9:30 p.m.
About Annisa:
If you're looking for New York City Restaurants that offer upscale NYC Dining, there are many to choose from. Annisa - in the West Village - is local favorite, however.
Annisa offers exquisite Fine Dining in NYC. Dishes at Annisa focus on contemporary American fare, which is prepared by Award-winning chef Anita Lo. Chef Lo's creations are first-class, and they're served in a setting that is sophisticated and intimate.
Are you looking for an NYC Hotel that is close to the top New York City Restaurants for upscale dining? Choose a Central Park Hotel or an NYC Hotel in the Broadway Theater District and you'll have many choices nearby.
Annisa sits in the heart of Manhattan, in the middle of eclectic Greenwich Village. The menu at Annisa is a delight to most NYC Diners, as it combines flavors inspired by Chef Lo's Asian roots, her travels, and the seasons.
Sit down for a meal at Annisa and you'll enjoy cuisine that is prepared with classic French techniques and put together with seasonally-available ingredients. Chef Lo has crafted a persuasive, but disarming, menu that also features a fabulous wine list. The wine selection is truly unique at Annisa, as it includes vintages that celebrate women in wine (Annisa means "women" in Arabic and Chef Lo loves to offer selections produced by female vintners or vineyard owners).
If you're looking for New York City Restaurants that are perfect for a social occasion or celebration, dine at Annisa. 
NYC
Visitor's Guide
Learn about all there is to do, see and experience in the world's greatest city!