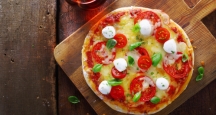 Al di La | NYC Restaurants
Al di La is a NYC Restaurant that serves generous portions of Italian cuisine at a great price. Walk into this Restaurant in New York for a memorable meal.
Address:
248 5th Avenue, Brooklyn, NY 11215
Cuisine: Italian
Neighborhood: Park Slope North
Price: $$
Reservations: Not taken
Hours:
Monday through Thursday – 12 p.m. to 3 p.m. and 6 p.m. to 10:30 p.m.
Friday – 12 p.m. to 3 p.m. and 6 p.m. to 11 p.m.
Saturday – 11 a.m. to 3:30 p.m. and 5:30 p.m. to 11 p.m.
Sunday – 11 a.m. to 3:30 p.m. and 5 p.m. to 10 p.m.
About Al di La:
A great NYC Restaurant to dine at for Northern Italian fare is Al di La. This NYC trattoria serves lunch and dinner, with brunch offered on the weekends. At Al di La, enjoy dishes made with local ingredients that are responsibly sourced and prepared with care.
Al di La is a Park Slope North eatery that offers New York Dining on a walk-in basis, so there is no need to call ahead for a reservation. If you do have a large group, however (between 6 to 10 diners), you can let Al di La know you're coming and they'll set aside a table for you.
Sit down for a meal in Al di La's main dining room and you'll surely have an enjoyable time. Or, opt for a seat at the bar, as many New Yorkers Do. Wherever you end up, experience the same level of hospitality at Al di La, an NYC Restaurant that The New York Times gave 2 stars.
Michelin Guide continuously recommends Al di La and calls it one of the NYC Restaurants that you "must dine at." Slow Food gave Al di La the "Snail of Approval" for its commitment to responsible food sourcing.
Al di La has been family-owned and operated since it opened – in 1998. The Brooklyn Restaurant is run by husband and wife team Emiliano Coppa and Chef Anna Klinger.
For a Restaurant in New York that is at the top of its class – and is just a short cab or subway ride from a centrally-located NYC Hotel – dine at Al di La.
NYC
Visitor's Guide
Learn about all there is to do, see and experience in the world's greatest city!