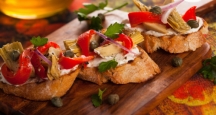 Ai Fiori | New York City Dining
Ai Fiori is a fine-dining Italian Restaurants in NY. Consider this New York City Dining spot during your next visit.
Address:
400 5th Avenue #2 New York, NY 10018
Cuisine: Italian
Neighborhood: Midtown West
Price: $$$$
Reservations: Taken
Hours:
Monday through Friday – 7 a.m. to 10:15 a.m., 11:45 a.m. to 1:45 p.m., and 5 p.m. to 9:45 p.m.
Saturday – 7 a.m. to 10:45 a.m. and 5 p.m. to 10:45 p.m.
Sunday – 7 a.m. to 10:45 a.m. and 4 p.m. to 9 p.m.
About Ai Fiori:
What is a top spot for New York City Dining on Italian fare? Many New Yorkers will tell you that the best is Ai Fiori – a Midtown Italian Restaurant in NYC that opened in 2010. After popping up on the NYC Restaurant scene just a few years ago, Ai Fiori almost immediately became one of the most popular Italian Restaurants in NY.
This exquisite destination for New York City Dining is Altamarea Group's first venture into Riviera cuisine. Since day 1, Ai Fiori has provided an exceptional experience for those who want the best offerings from the Italian and French Riviera. Even the NY Restaurant's name celebrates the beauty of that region (Ai Fiori translates to "Among the Flowers" in Italian).
Ai Fiori is one of the top Restaurants in NY because it showcases modern interpretations of traditional regional dishes. Ai Fiori's menu features inventive preparations from the land and from the sea, focusing on a selection of the chef's signature pastas.
When you dine at Ai Fiori, you enjoy an ambiance that is refined, yet playful. This top spot for New York City Dining serves breakfast, lunch, and dinner – in an absolutely exquisite space. As you enter Ai Fiori, a beautiful white marble bar sits front and center – where a skilled bar staff prepares craft cocktails unlike any you've likely tasted before.
Guests dining at Ai Fiori enjoy attentive wine service that is overseen by beverage director Hristo Zisovski – and they are offered a choice of vintages that exceed 300 selections from Provence, Liguria, and the surrounding areas.
NYC
Visitor's Guide
Learn about all there is to do, see and experience in the world's greatest city!